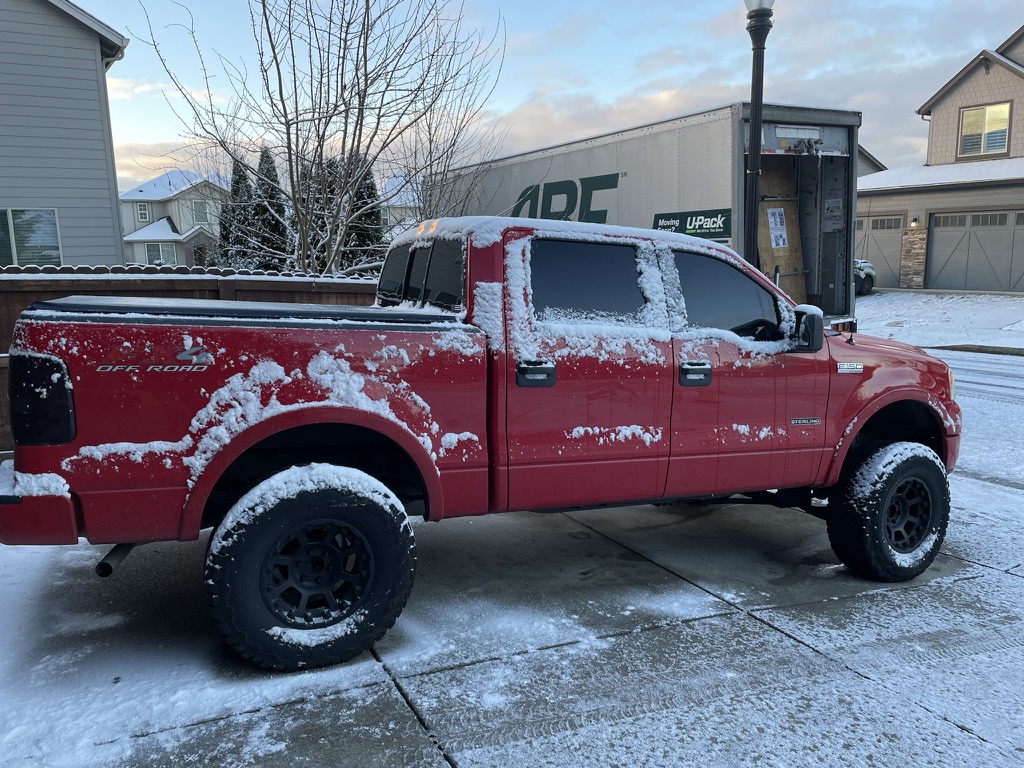 So after saying our goodbyes last night (which was not fun!) we hit the road this morning to Texas with the Removal Company. We woke up early today and finished packing the last few things into the U-Pack trailer and our two vehicles before heading out. We decided to take the route down through California, Arizona and New Mexico.
It's 36 hours of drive time and 2,377 miles and our goal is to do it in four days. But it may be longer with the weather. Cailee and Cody joined us for the road trip so we'll have 4 drivers between the two vehicles, which will be nice. I'll try to post a short update each night after we get to our hotel.
Day 1 – Dec. 27 @ 9pm
Battle Ground to Redding
We left our house at 9:00 am, grabbed McDonalds for breakfast, got gas and then picked up Cailee and Cody. Lacie drove the van with Cailee, Benji and Charlie and Cody, Emma and Lily rode with me in the truck. We left Vancouver around 10am and made it through Portland with no problems. Roads were fine and traffic wasn't bad at all.
About an hour into our drive Lacie called to let me know she just talked to U-Pack and they told her they would NOT be able to store our stuff like they originally promised. She talked to a woman there two weeks ago who quoted her $1200/month to store our stuff and said it would be no problem. But then today the guy said, "No, we stopped offering that last summer because we need our trailers."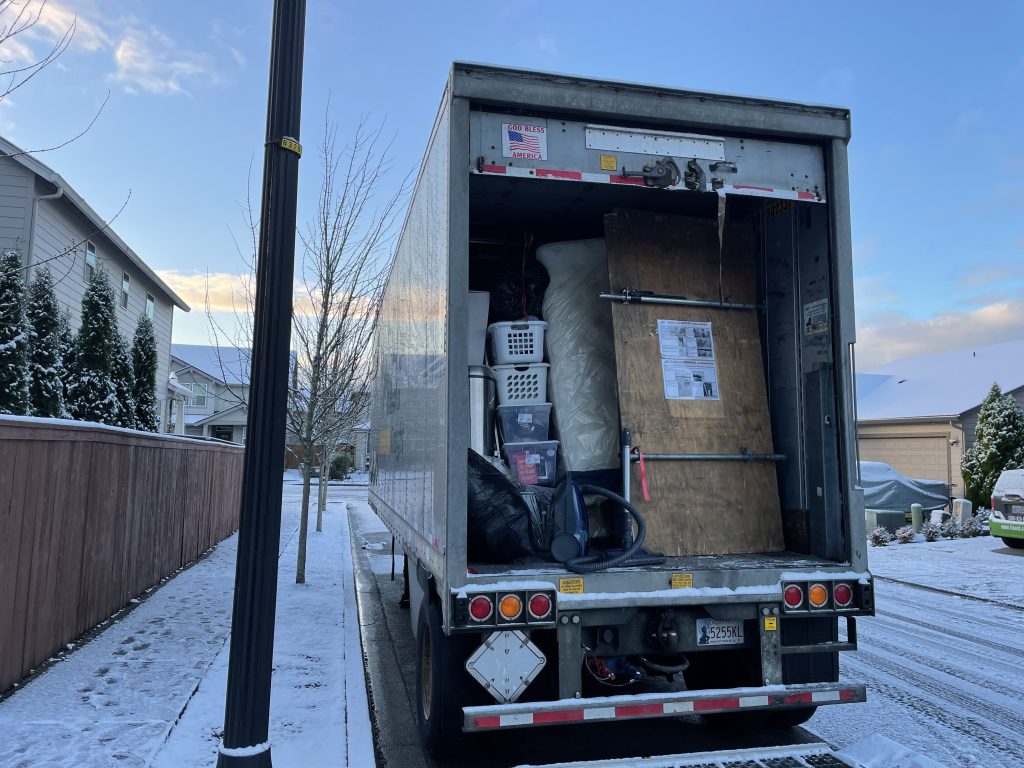 I called them back to see what was up and the guy told me the same thing. "I'm sorry, nothing I can do," he said. It was annoying.
So I had Cody look up storage facilities in New Braunfels and I called 6 of them before I finally found one that was available and allows a U-Pack trailer to be parked there for 24 hrs to unload. It's a climate-controlled 10×25′ unit. And it's only $400/month but we'll also have to hire moves to do an extra unload/load. But was just happy to find a place for our stuff to go once it arrives in Texas (ETA is Jan 12-14th).
After figuring all that out we stopped for lunch at Grants Pass around 2pm. After about 30 seconds in that town I wanted to leave! Felt like everybody there was driving around angry at everyone else. We pulled in to In-n-Out but there were about 15 cars in line so we skipped that and got Taco Bell & Muchas Gracias instead. I almost got blocked in at the gas station because someone was trying to hook up a tow strap to a busted up Jeep with missing windows next to me. So next time I think we'll pass on Grants Pass. 🙂
The roads over the Siskiyou Pass were in good condition. I didn't slide at all and visibility was pretty good too. I only saw two cars in the ditch all day today and there was one fallen tree that caused a slight back up. So not bad.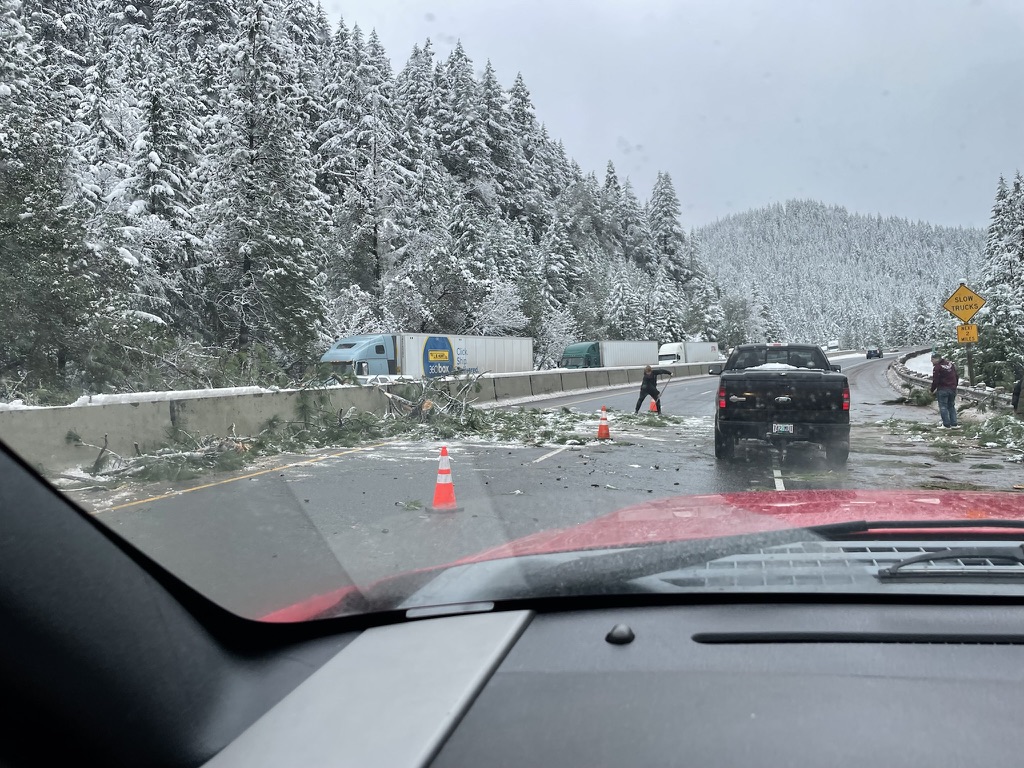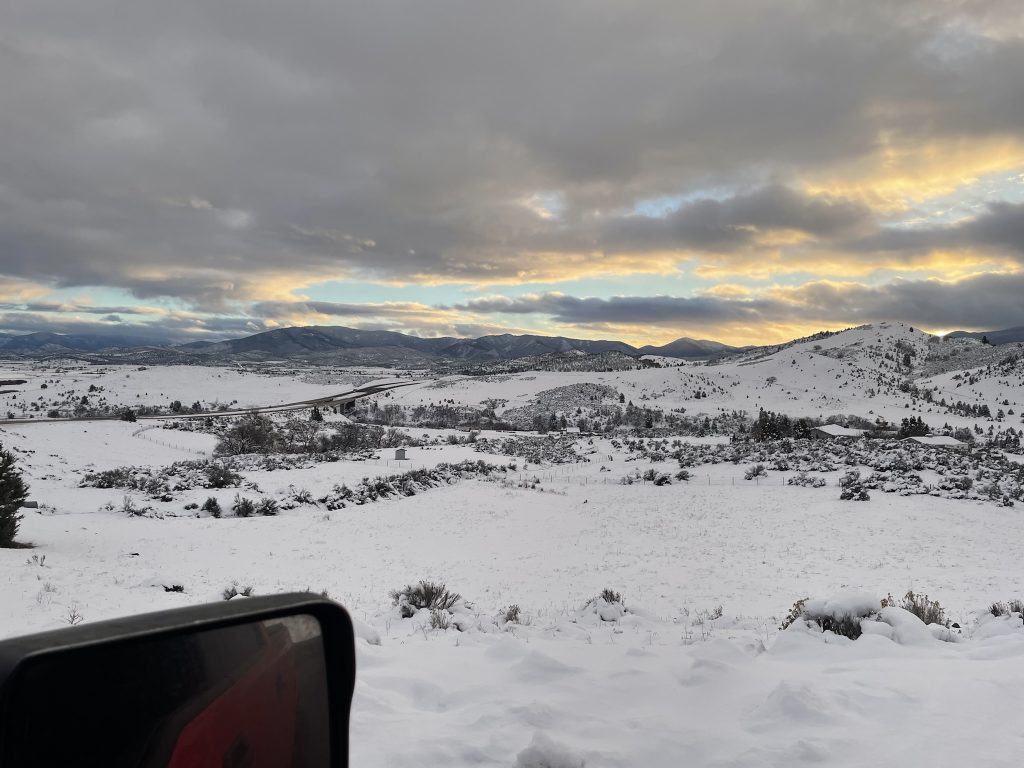 We pulled into the Best Western here in Redding right around 6pm. So in total it took us 8 hrs from the time we left Vancouver this morning. I felt like we made good time. We DoorDashed some food to the hotel and now we're all winding down and ready to get some rest so we can do it again tomorrow. We knocked out about 20% of the total trip today so we'll see how tomorrow goes!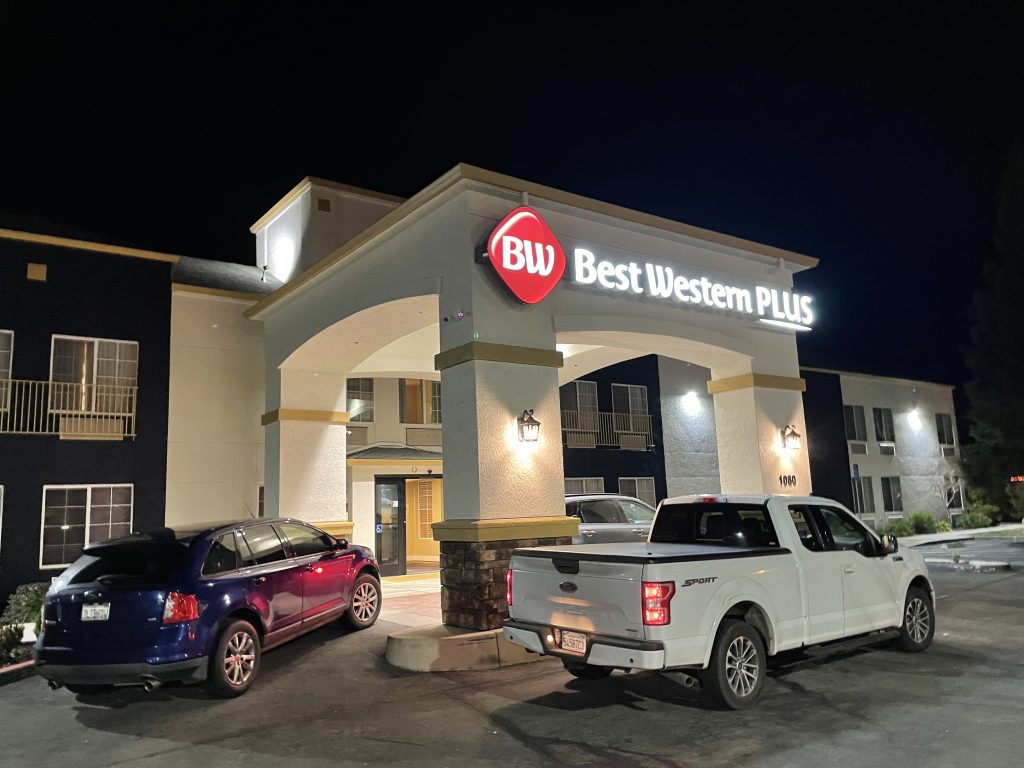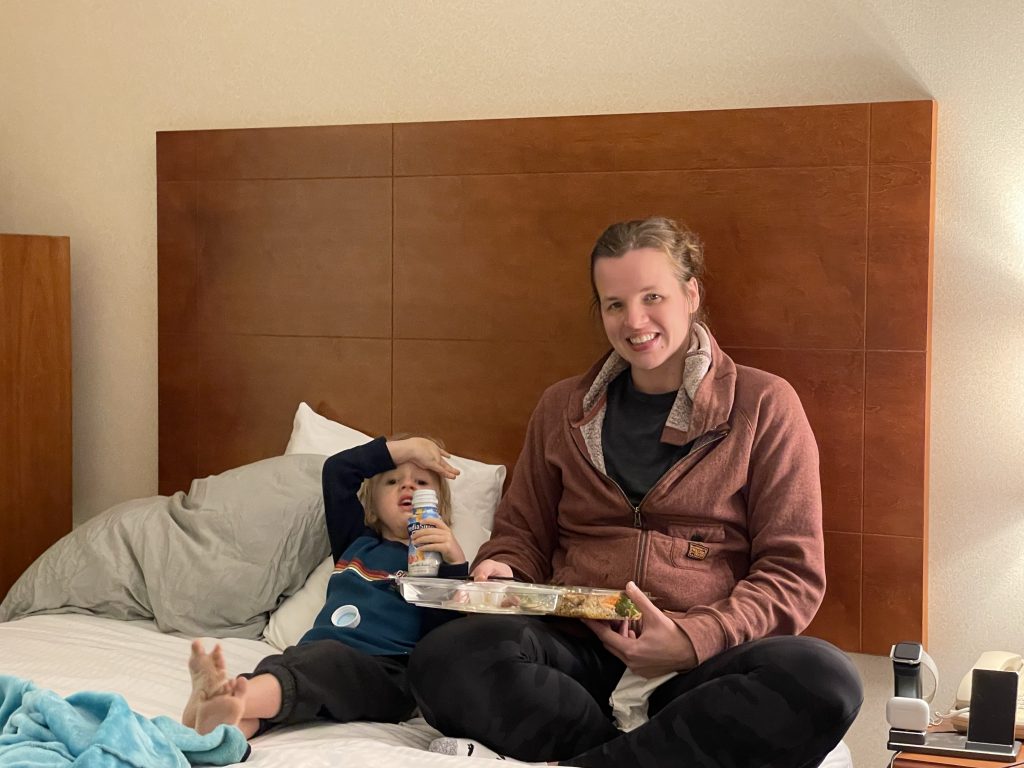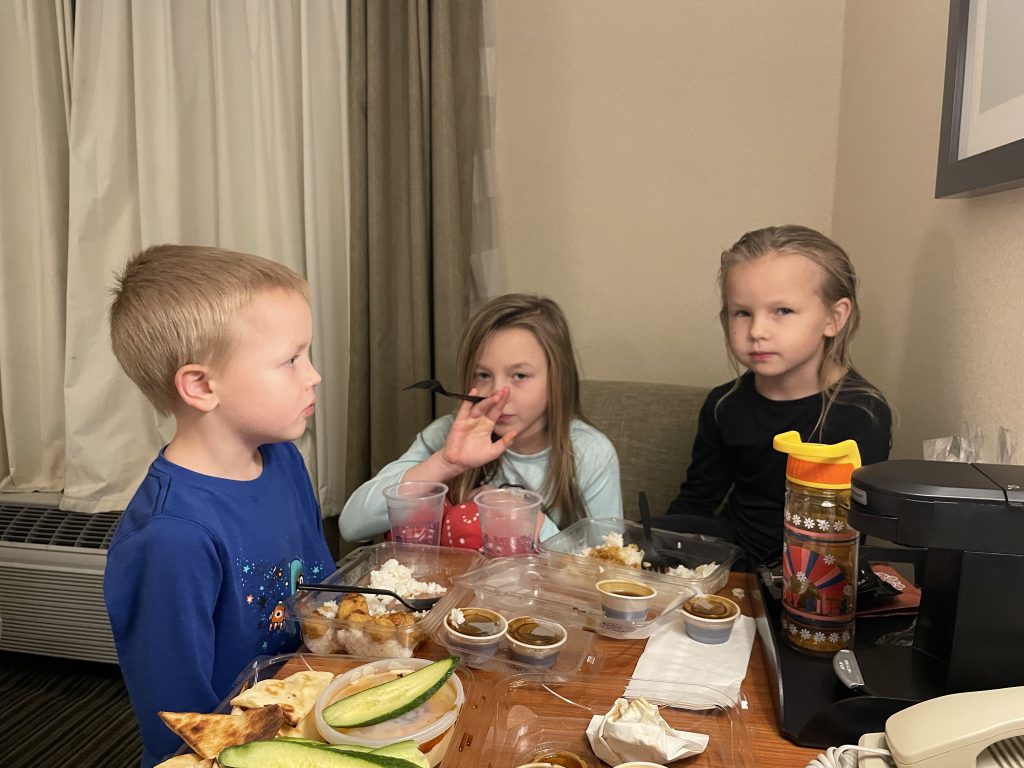 Day 2 – Dec. 28 @ 7pm
Redding to San Bernardino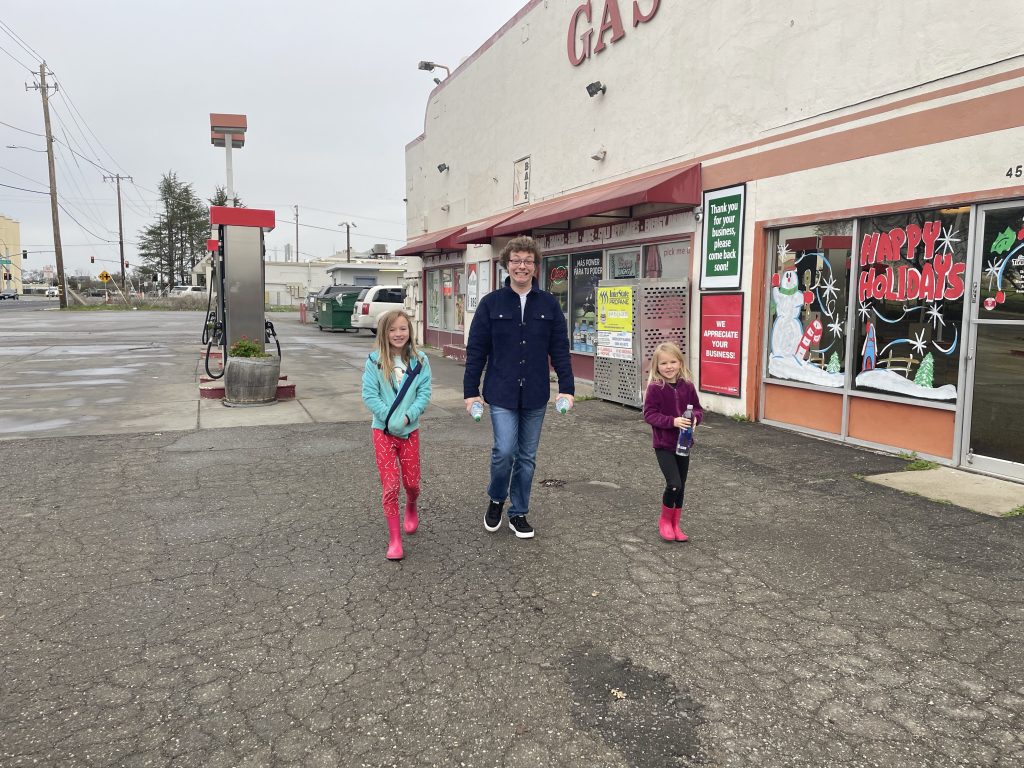 Long day today. I'm writing this from the road since I wont have any energy to once we get to our hotel tonight…
Our "day" started at 3am when the fire alarms started going off at the Best Western in Redding! I threw some clothes on and ran out into the hallway to assess the situation. I saw a bunch of bleary-eyed guests dragging their bags down the hallway toward the exit.
I walked down the hallway and didn't smell any smoke but also remembered I still can't really smell good ever since I had covid! So told our barely conscious kids to get their shoes so we could go outside. But right as we were stepping into the hallway the alarms stopped.
Not sure what set the alarms off but I did remind Cody his job was to make sure the smoke detectors didn't go off (inside Seppala Christmas dinner joke)…
There were rumors in the lobby the next morning about "burnt popcorn" but I think it was someone smoking in their room based on all the empirical evidence I had, which was me laying in bed at 3:30am grumbling about whoever set the stupid alarms off!
"I bet it was someone smoking in their room," I told Lacie who also couldn't go back to sleep.
She said, "I think it was the guy who was checking in before me who was headed to Florida and who kept taking cigarette breaks outside the lobby."
"Why do you think it was him?"
"Because he told the lady he needed a special room for his pets. 'They're great dogs and never makes a mess. But I'm probably wasting my breath telling you that.'"
So Lacie suspects the guy headed to Florida.
Anyway, it's an unsolved mystery. If you happened to see any suspicious behavior the night of Dec. 27 at the Best Western in Redding please leave a comment below…
So yeah, that's how our day started. We left the hotel around 6am and left Redding at 6:30am. We stopped in Woodland, CA to get our studded tires replaced with the normal ones we had in the back of my truck. Our pit stop took about an hour.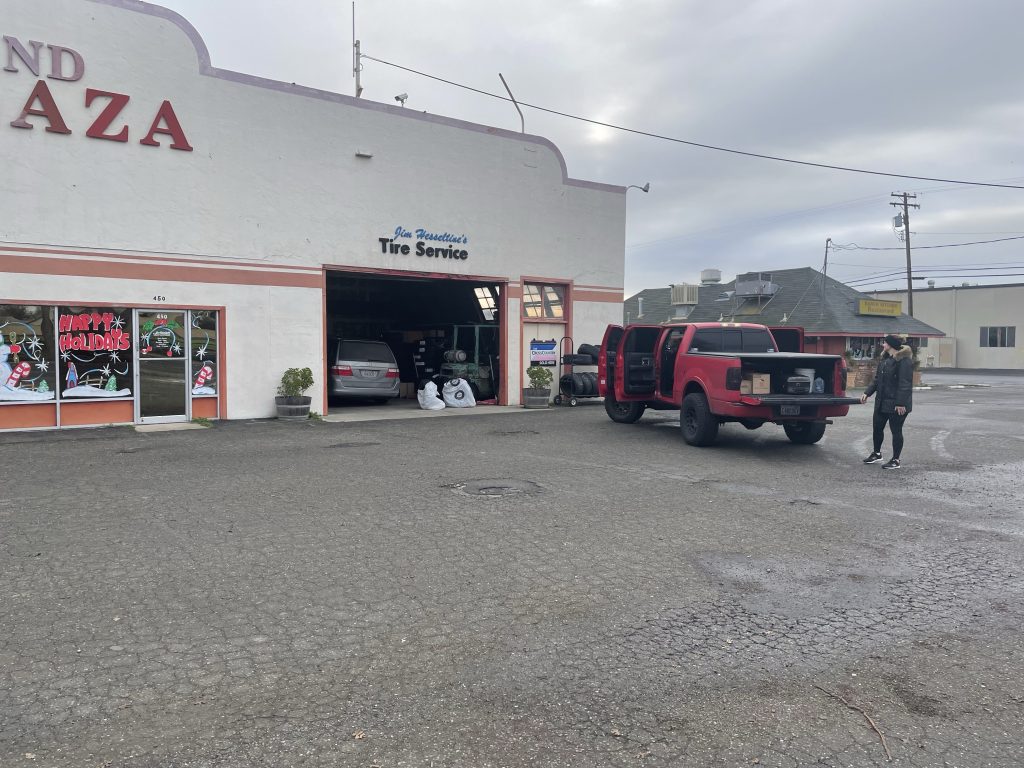 We stopped for lunch at Panda around 2pm:
We booked a couple rooms at the Double Tree tonight in San Bernardino, which we're currently 23 miles and 32 mins away from. So that will put us at 603 miles for the day (about 9.5 hrs of actual drive time). Kids did pretty well all things considered. They just played games and watched movies on their tablets all day.
Our plan tomorrow is to make it to Las Cruces, NM to an AirBnB Lacie found. It'll be another long day but hopefully no fire alarms tonight!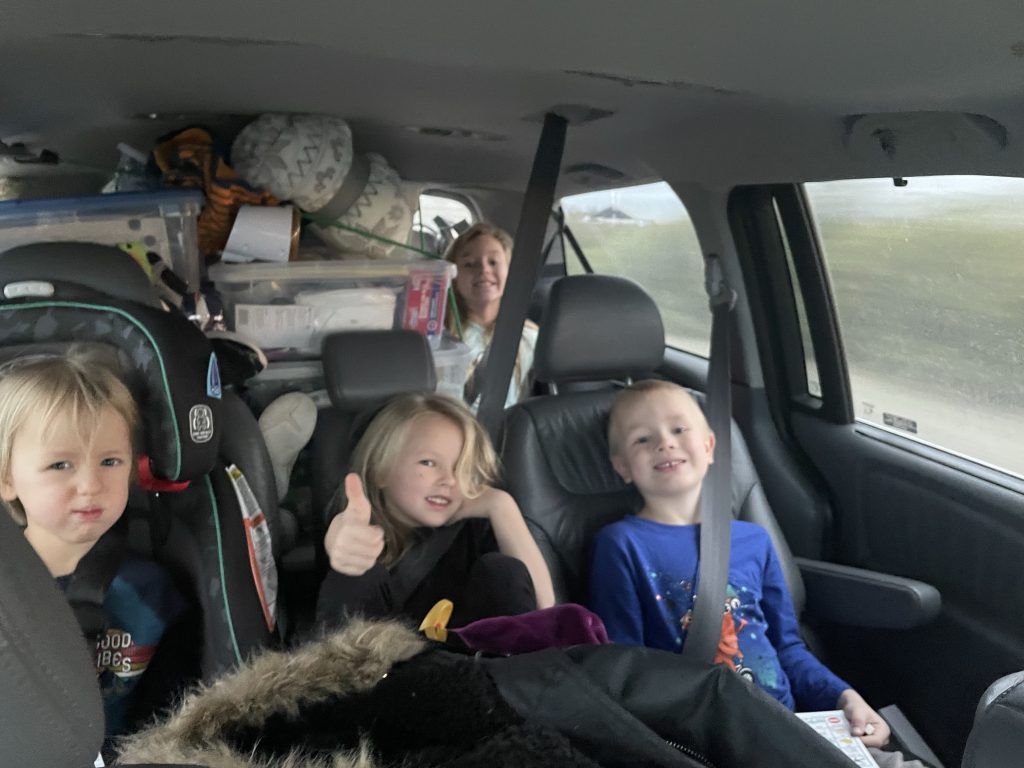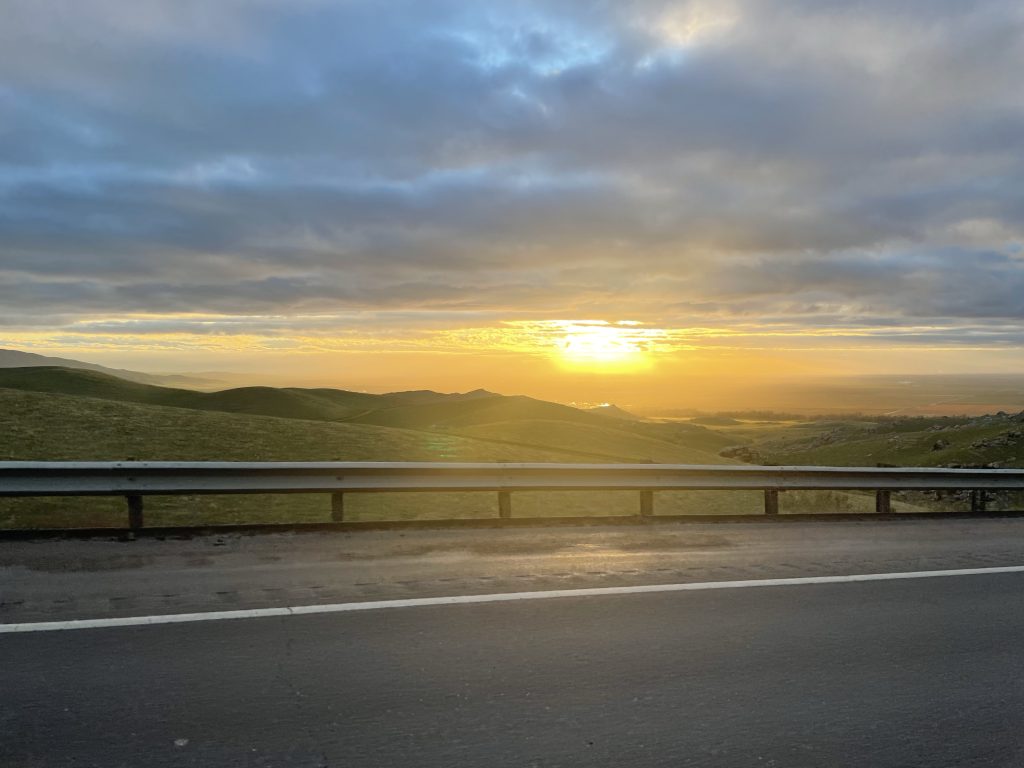 Day 3 – Dec. 29 @ 9pm
San Bernardino to Las Cruces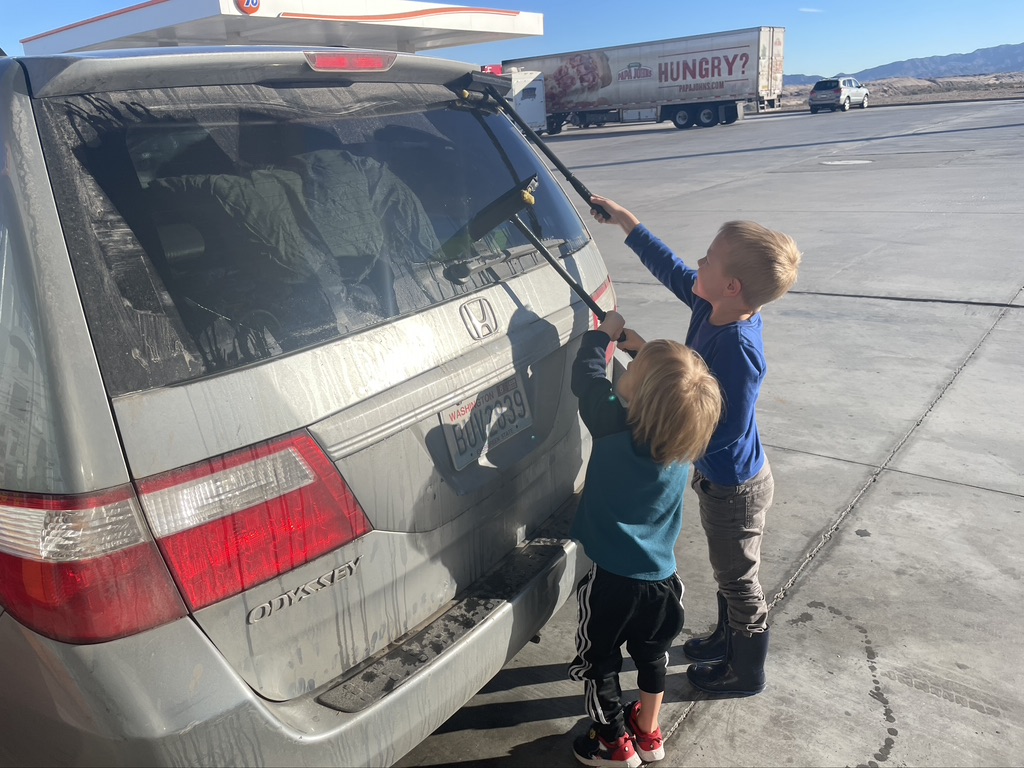 We covered a lot more ground today, 708 miles to be exact. We woke up at 5:00am and were back on the road by 5:45. Thankfully no fire alarms went off last night so we had better sleep.
It was a little over 10 hours of actual drive time, which I realized is a lot when you're in cars with kids and not in a motorhome. At one point Charlie said he wanted to be in the motorhome instead and asked me where it was. I told him it's in Texas. "Dexas?" he asks (I love the way he says Texas).
We pulled into our AirBnB here in Las Cruces, NM at 5:45pm. So with all our stops it was a 12-hour day total. It would've been a little shorter but we stopped for lunch in Arizona at a super good Mexican restaurant called Mi Casa.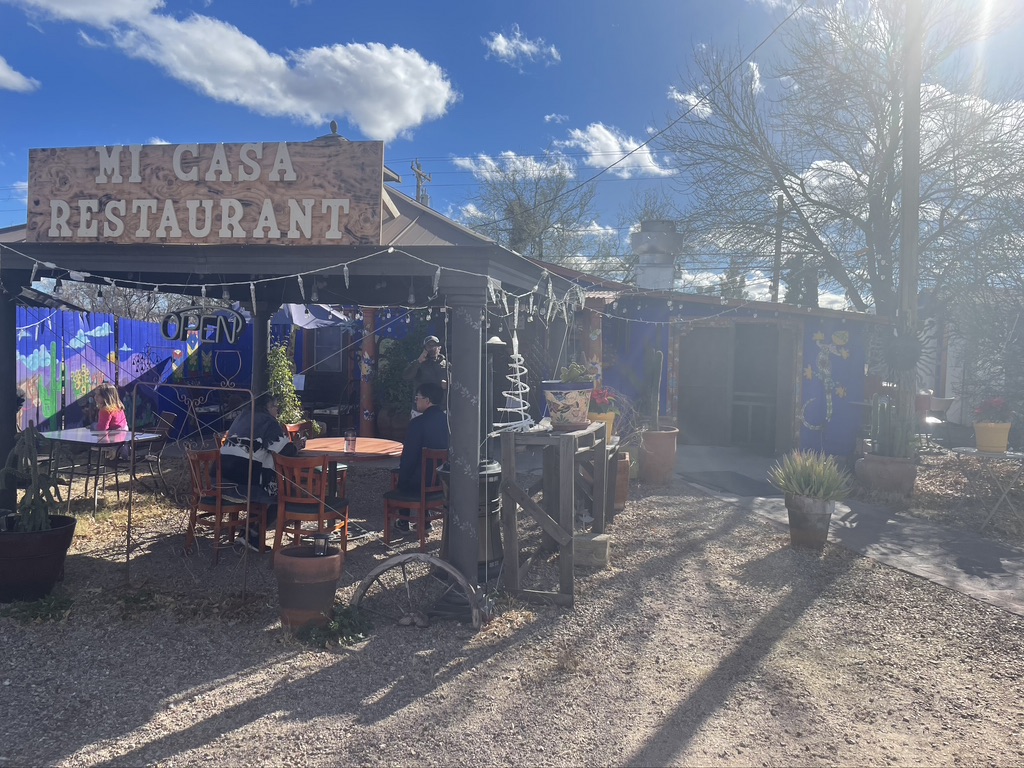 After lunch I asked Lacie if she wanted me to drive but she said she was doing great so she drove the entire 708 miles today! At one point I told her we were less than 10 hours from our place in Texas and she said, "Let's go!" If we didn't have the kids with us I think she would've done it too.
Wish I could say I had as positive of attitude as Lacie did all day today. But I was a little grumpy this morning, mainly from just being tired and in the car so much. However, once we pulled into Arizona and the sun came out I immediately got in a better mood.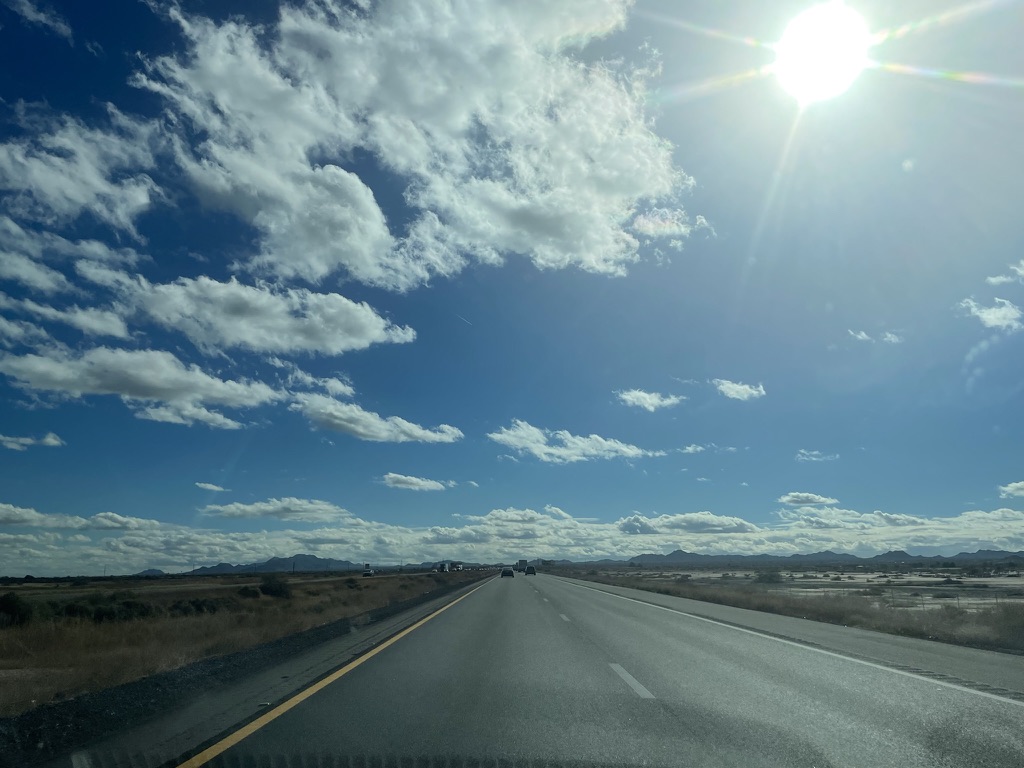 The kids did really good all day. I'm actually surprised at how good Charlie is doing. I assumed he'd be done after 5+ hours in a car but he powered through all day today with only minor whining. I downloaded some new games for him on his tablet which kept him occupied for a while. And the other kids took turns keeping him entertained. Cailee and Cody drove the truck and the girls rode with them for part of the drive today.
I picked up some food for us all and we ate dinner here at the AirBnB and then we took a hot tub, which the kids loved. Felt so good to soak in there after being in the car all day. Now we only have one more 8.5-hr drive ahead of us tomorrow and we'll be at our destination in New Braunfels!
Here's some pics from today: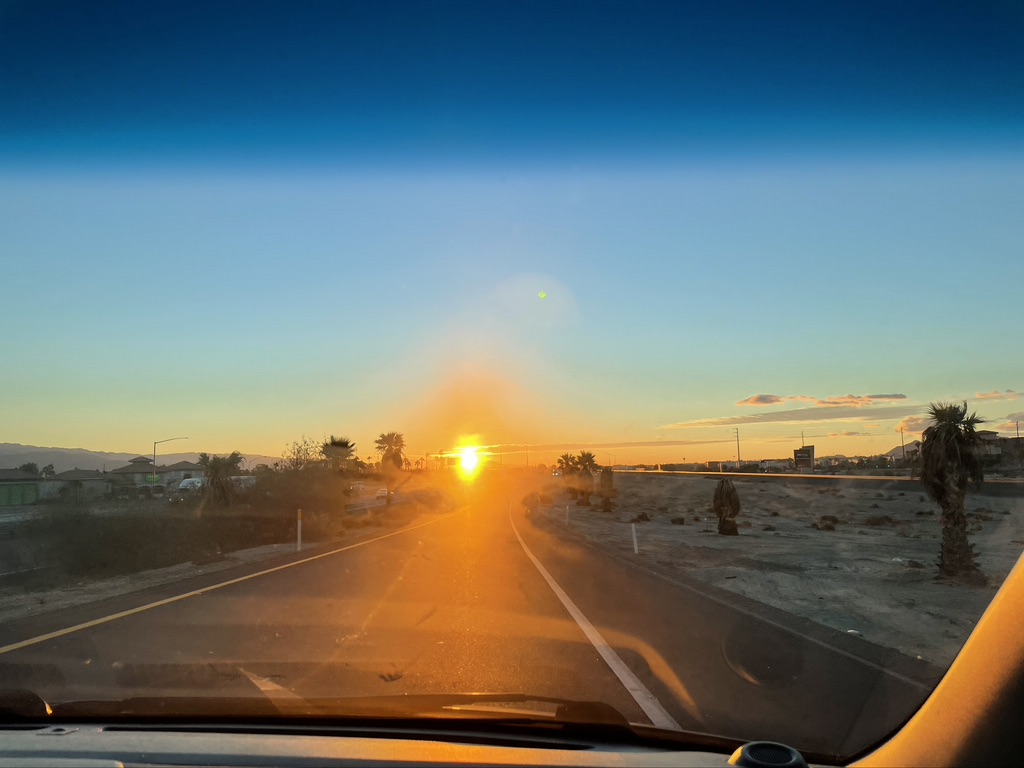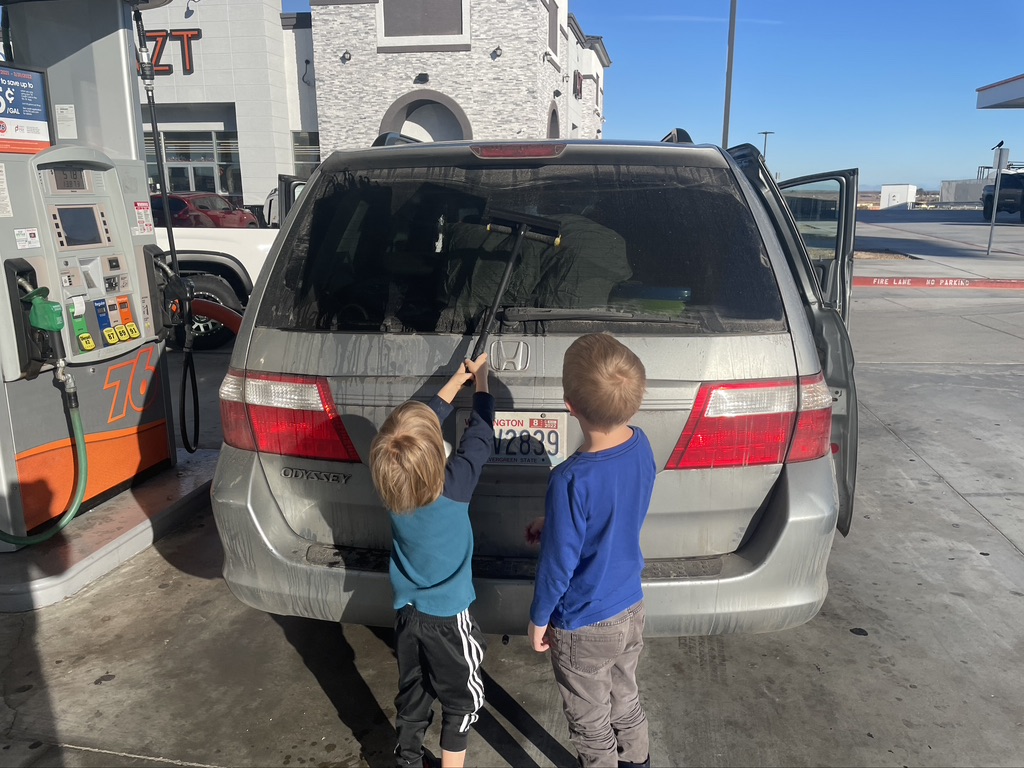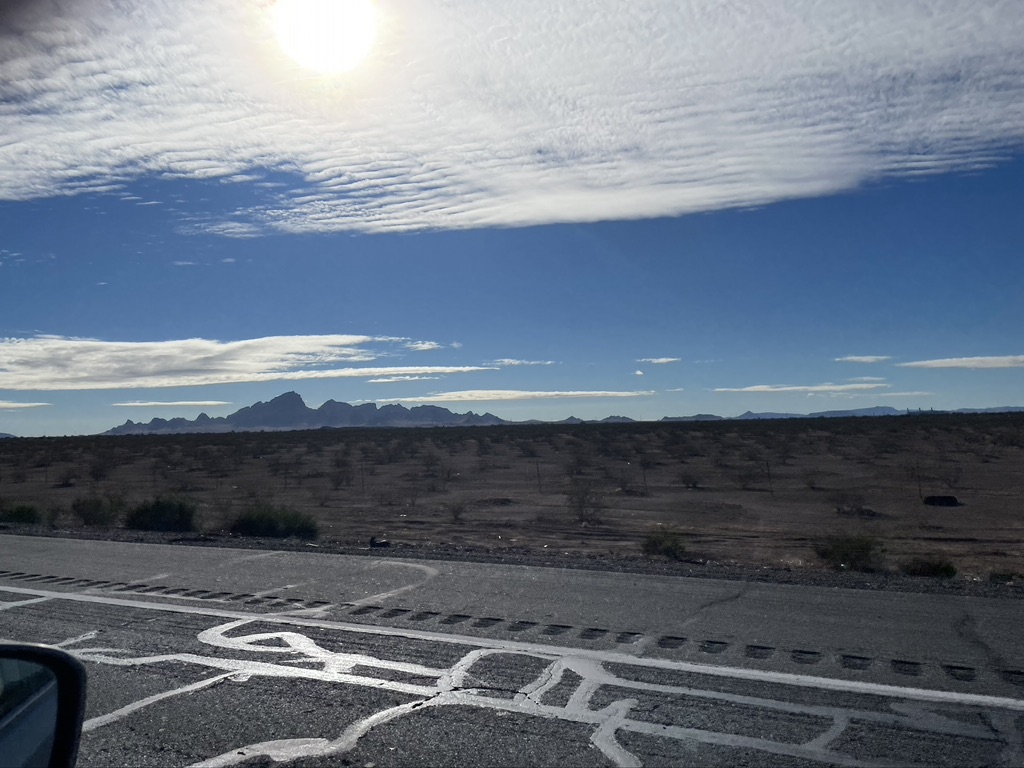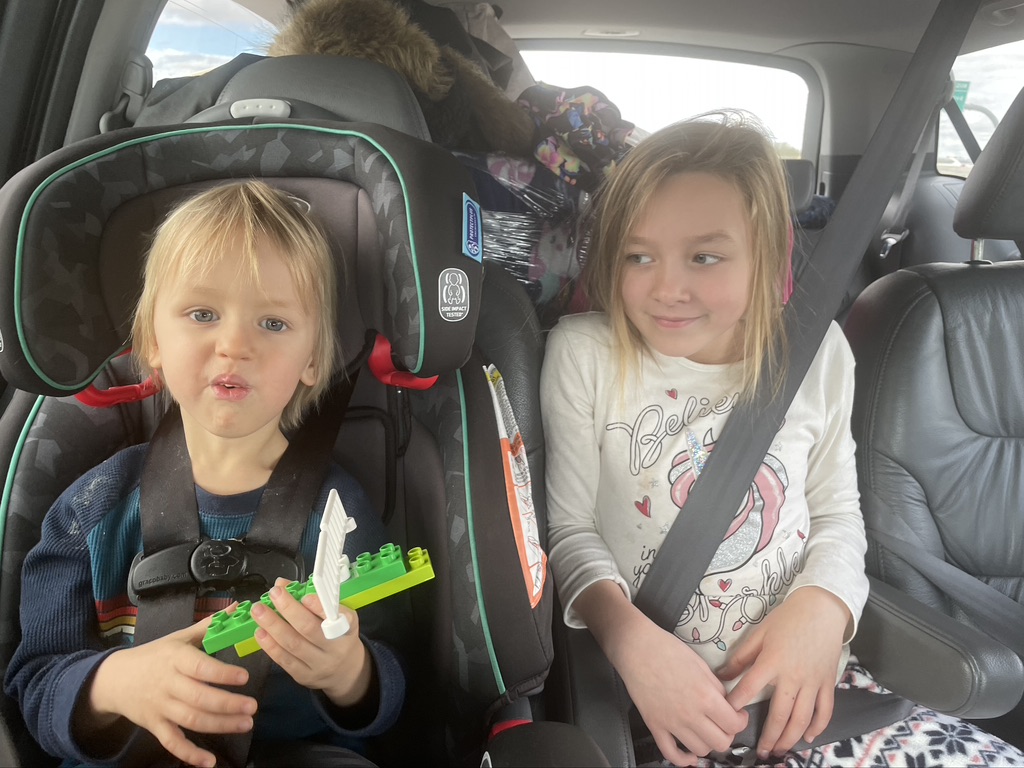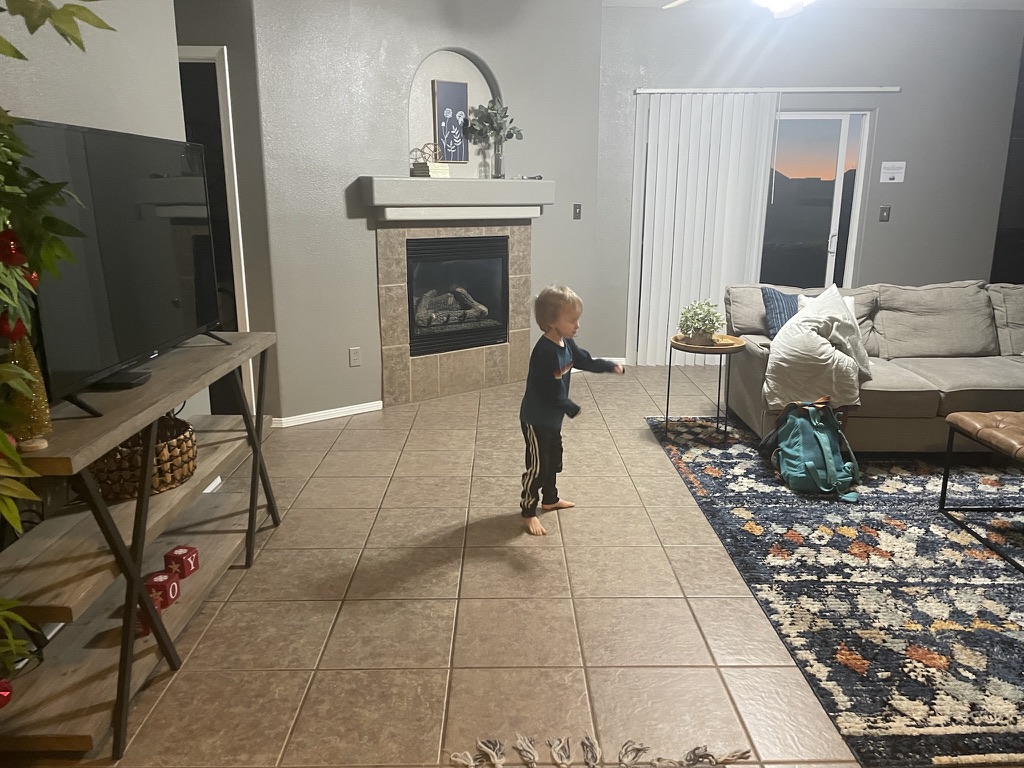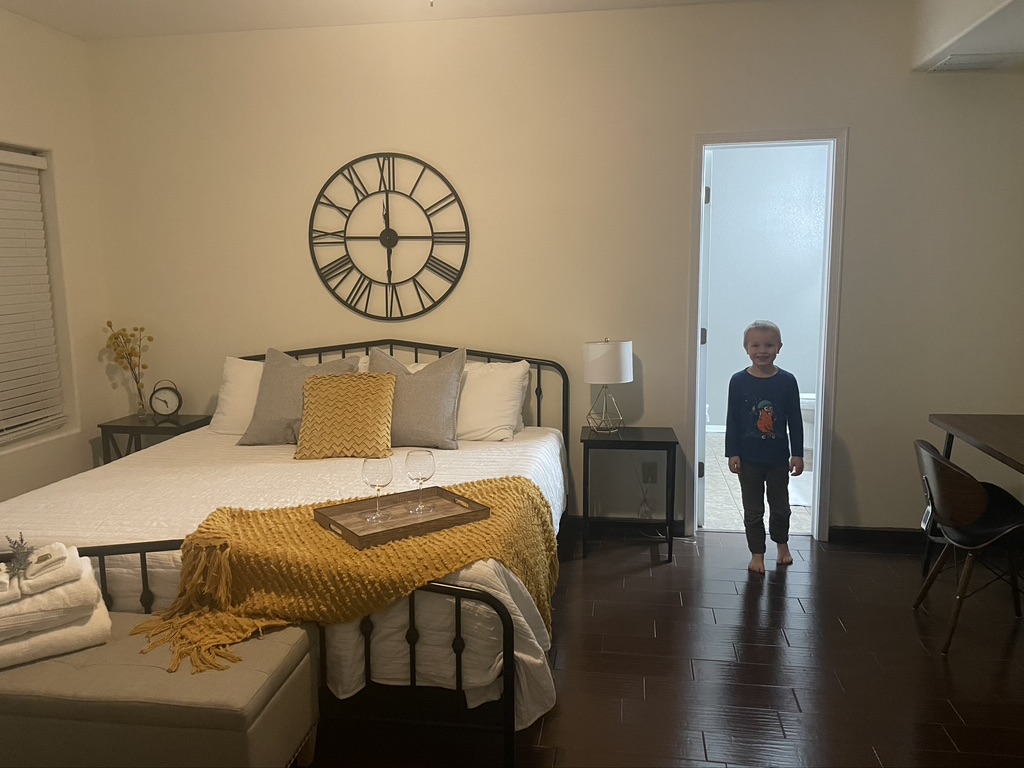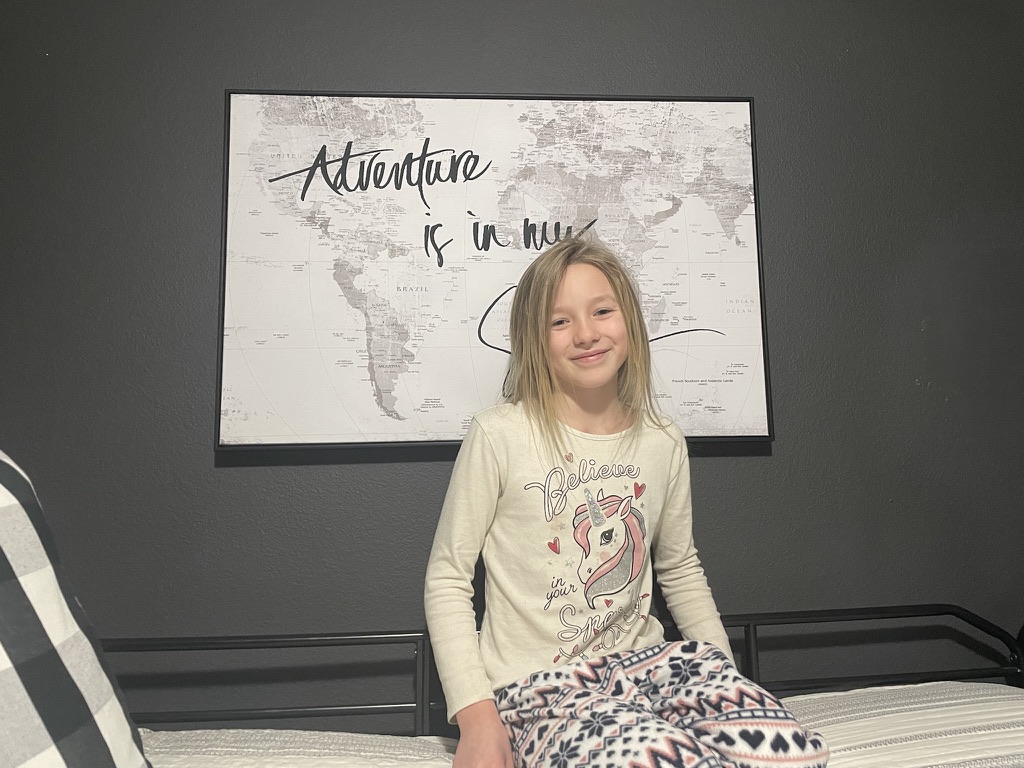 Day 4 – Dec. 30 @ 7pm
Las Cruces to New Braunfels
We made it to Texas!
We left the AirBnB in New Mexico at 7am and drove 625 miles to our new temporary home here in New Braunfels. We pulled in around 5pm and it felt so good to be here (and to not be sitting in a car anymore!).
Day 1:
Battle Ground to Redding: 441 miles
Day 2:
Redding to San Bernardino: 603 miles
Day 3:
San Bernardino to Las Cruces: 708 miles
Day 4:
Las Cruces to New Braunfels: 625 miles
Total = 2,377 miles
The drive went well today. I took turns driving the minivan with Lacie. And Cailee and Cody took turns driving the truck, which apparently we named Big Red.
Nothing too unusual happened on the drive today, except when the front fender on my truck came loose and we Lacie had to fix that.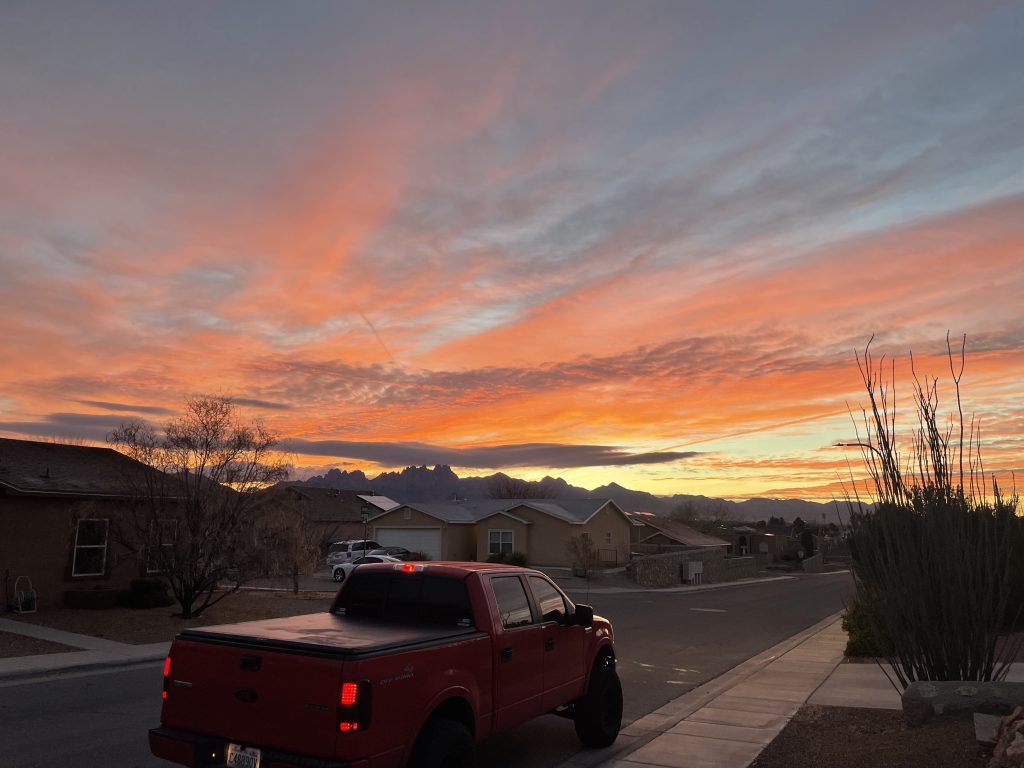 We pulled into a gas station and Lacie walked out with paper clips and tape which she used to secure the fender.
After we got back on the road I said, "Hey I know what movie character you would be now?" Earlier we were asking each other questions Ally sent us like "Which character in a movie would you be?

I didn't know the answer but then it hit me after she used paper clips to fix the fender… "You would totally be MacGyver," I said.
So that was the most interesting part of the drive. We also stopped for some great BBQ at this little spot in Sonora, TX. I had a pulled pork sandwich was amazing. Lacie got it too and said it was the best BBQ she'd ever had.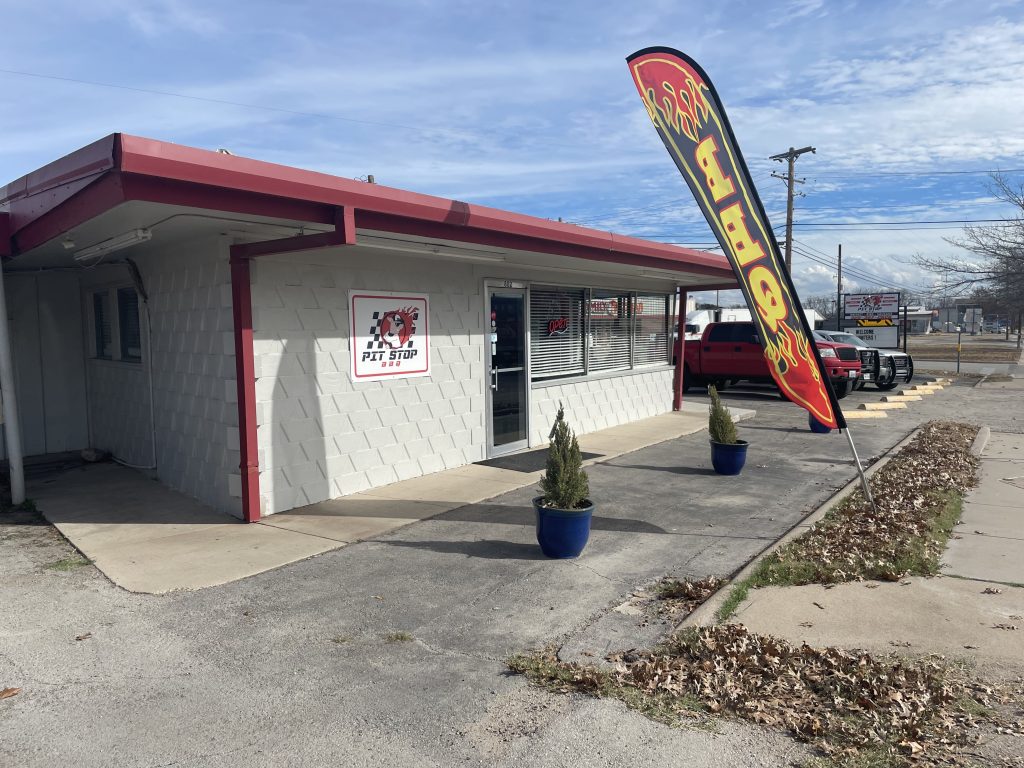 Our pit stops were very fast today too…
For example, when we stopped in Sonora we pulled in to the BBQ place and picked up our order that Lacie had called in. Then drove across the street to the gas station. I started the gas on the minivan and then put the card in at the pump across from me so as soon as Cailee pulled up with the truck we started filling her tank up within seconds. Then we dropped the tailgate and scarfed down our lunch as the gas finished pumping. The whole lunch stop took us less than 20 minutes. So we're pretty much ready for Formula 1 now is all I'm saying.
Anyway, this whole trip went very well. I'm proud of how good the kids were and happy there were no major delays or bad weather. We're excited to be here and looking forward to just relaxing tomorrow.
I think we will go check out our house that's being built. We talked to the builder tonight, who happened to call an hour after we got here to see how the trip was going. She said we can come out tomorrow to look at the progress and pick paint colors. So looking forward to that!