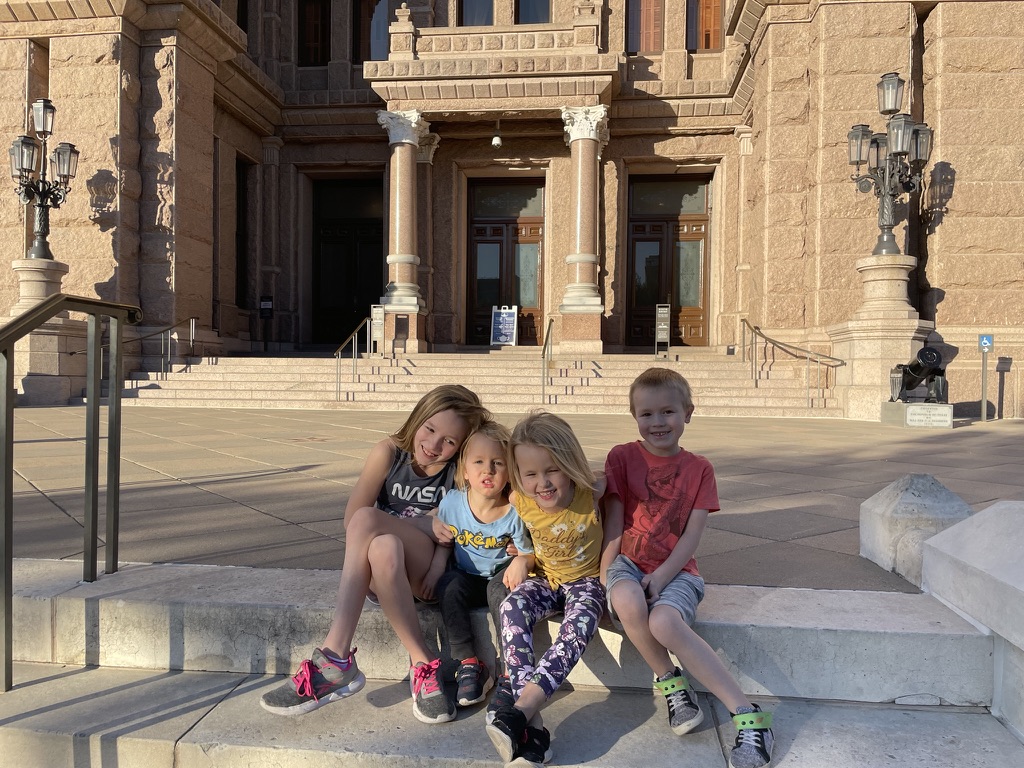 Well we've been in Texas for a month now so figured it's time for an update! I'd say the three biggest differences I've noticed between Washington and Texas are: a lot more sun, a lot less masks and people are proud of the state they live in (Texas flags are everywhere!).
The nicer weather has been a major plus for us. Lacie and I go on walks nearly every morning and I think we've only been rained on once in the last 4 weeks, so we're loving that. However, the temperature does fluctuate a lot.
For example, the high was like 45 degrees the other day and then the next day it was a high of 75. But it stays clear and sunny. So I'll take cold and sunny over cold and rainy anytime! It's nice because it's January but we still get to spend a lot of time outdoors.
Like on Sunday we went to a place called Butler Metro Park after church and met our friends Kevin and Emily and their three boys. The kids played for hours at the park and ended up getting really hot so we let them play in the splash pad. I had jeans on and was regretting not wearing shorts and flip flops… and it's January! That's just crazy. Here's some pics from the park:
Home Update
We rented this Airbnb for January and February because the new home we're buying was supposed to be done toward the end of February. Well, that got pushed back to the end of March. And since this Airbnb was already booked in March Lacie found another one in New Braunfels, so we'll be moving there at the end of this month.
The good news is we're under contract for the new home. Up until a few weeks ago it was basically a handshake deal but we finally put it in writing and paid our earnest money. So we feel good about that.
We've been out there a couple times to check on the progress and do things like choose paint colors and flooring. They also got more stone of the outside. Here's some pics from a few weeks ago: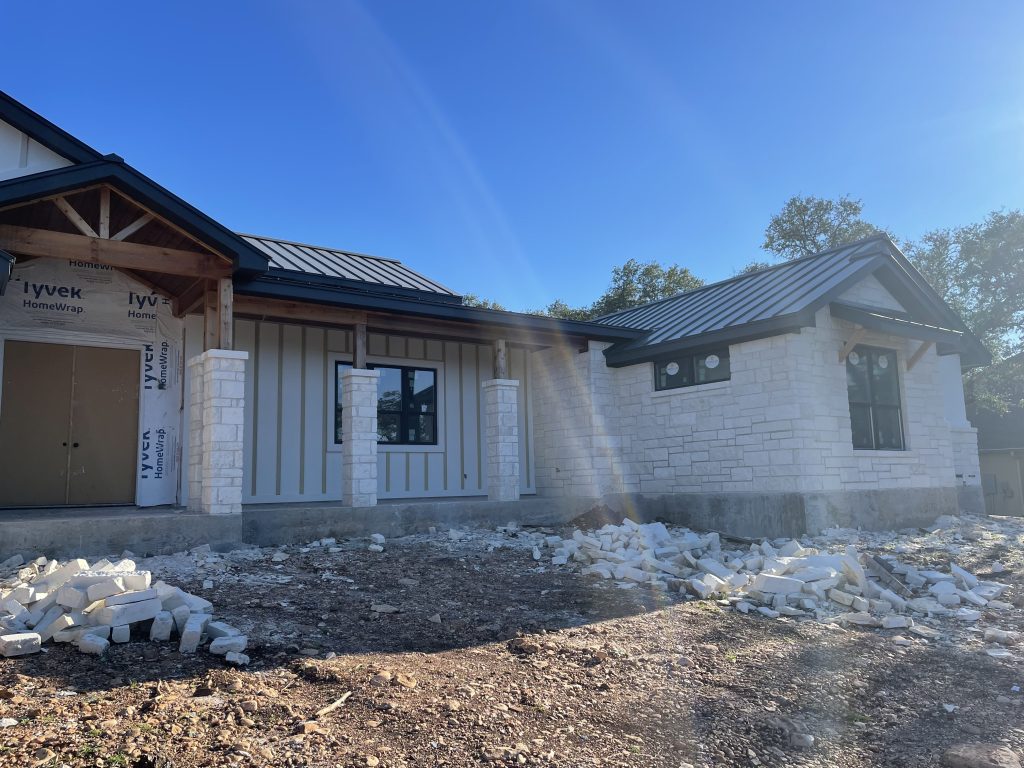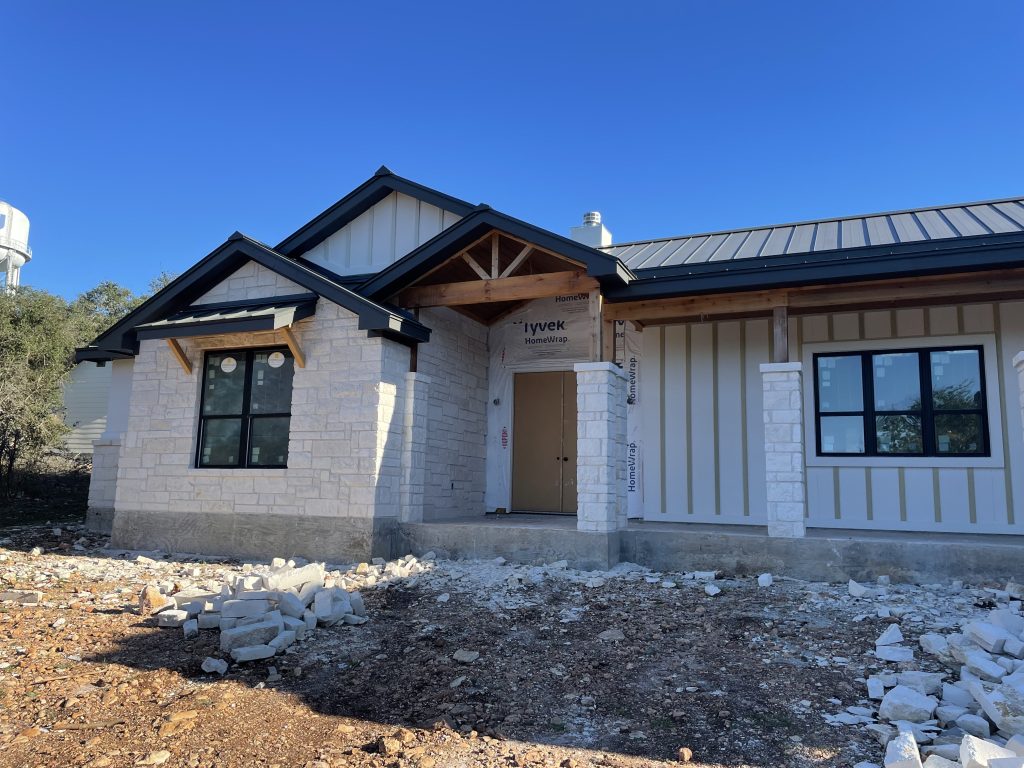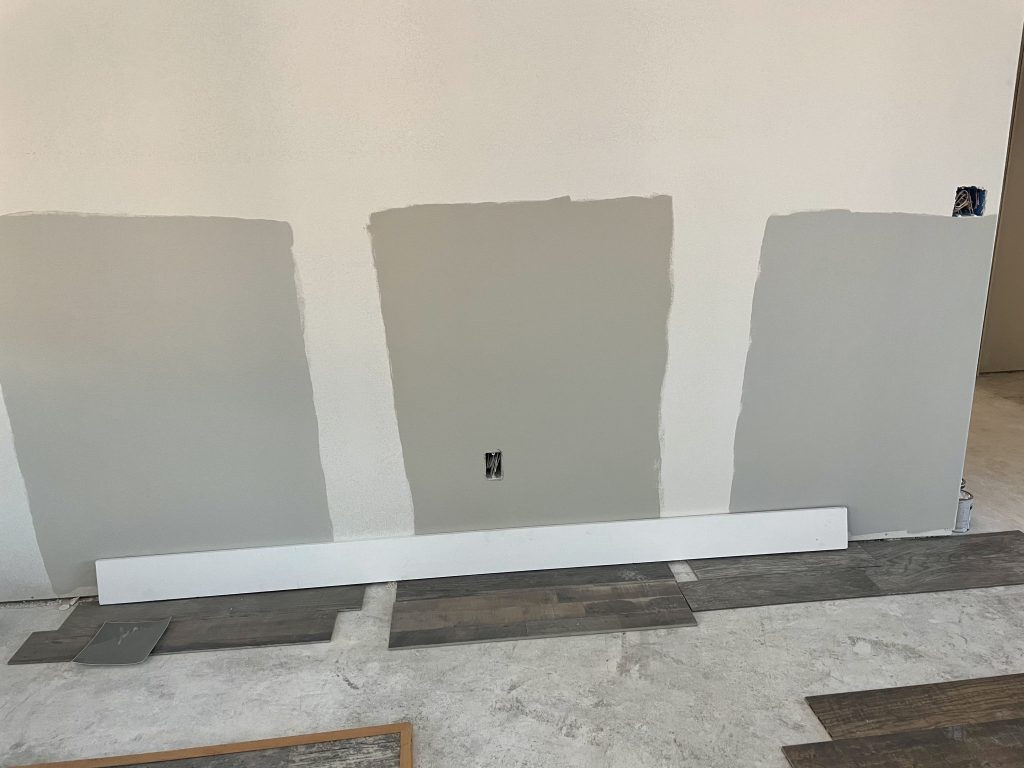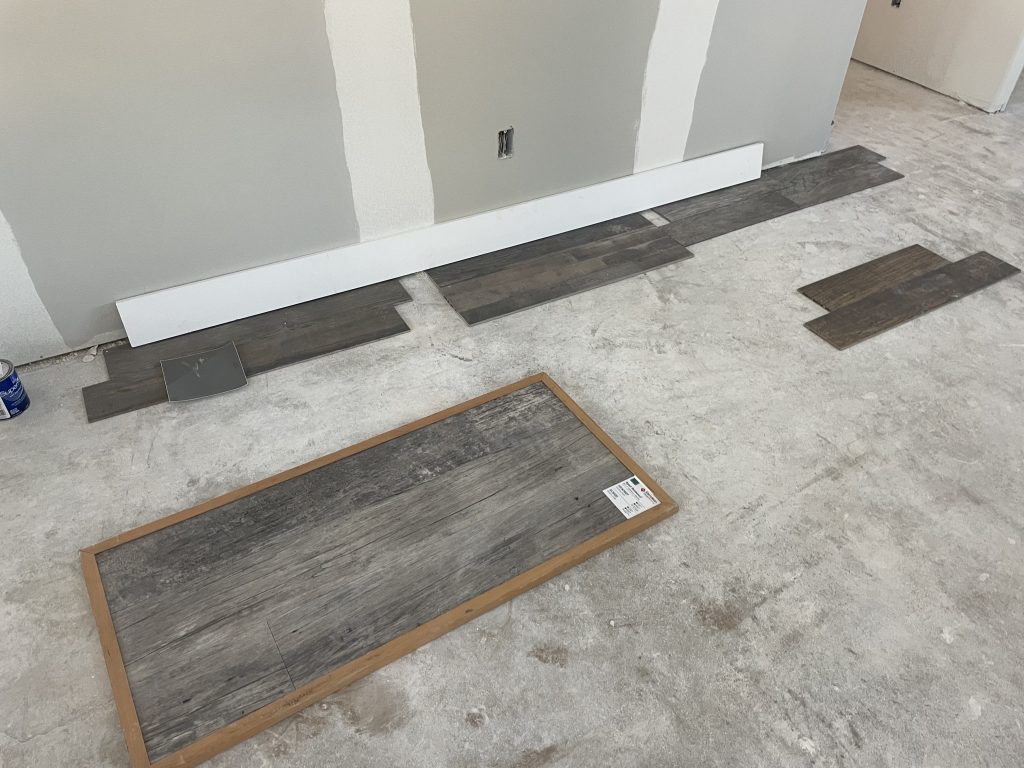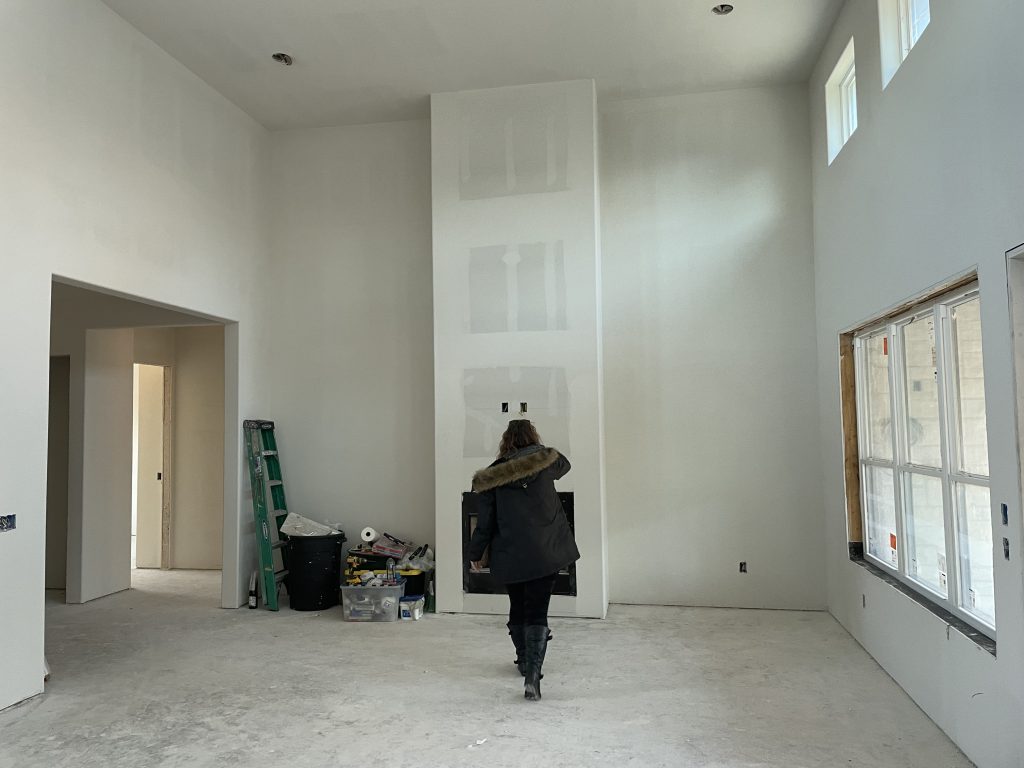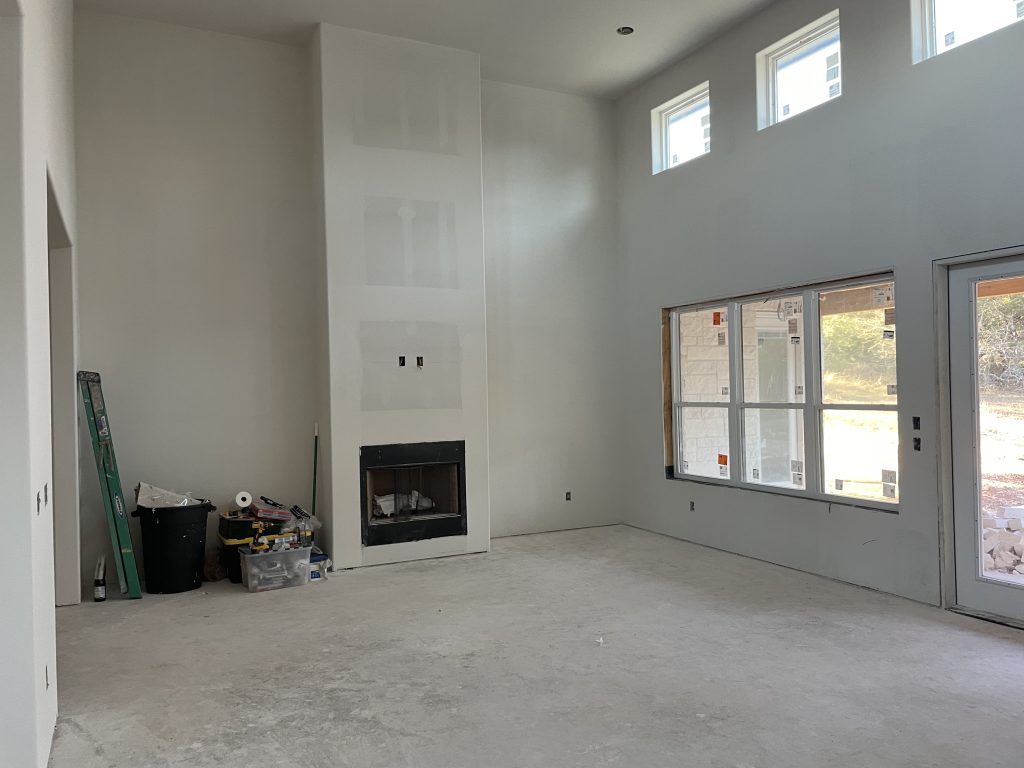 So the house is coming along nicely. Trying to be patient but we can't wait for it to be done of course. One other thing that we had to figure out was the 500 sq. ft. ADU we wanted to have built. But the builders let us know they wouldn't be able to do that in time for closing. So we just asked then to put power, water and plumbing out to where we're going to eventually build it.
And we're also going to have them put a 12×20 shed in the back which I'll use for my office until the ADU is done (hoping for sometime in the next 12 months). Once the ADU is done we'll convert the office shed into the homeschool house, which was Lacie's great idea!
Homeschool Update
Speaking of homeschool… that's what we've been doing since we got here. We're still figuring out what we're going to do long-term and it's hard to really decide until we're settled in our new house. But for now homeschool seems to be working well. Here's what their daily schedule looks like: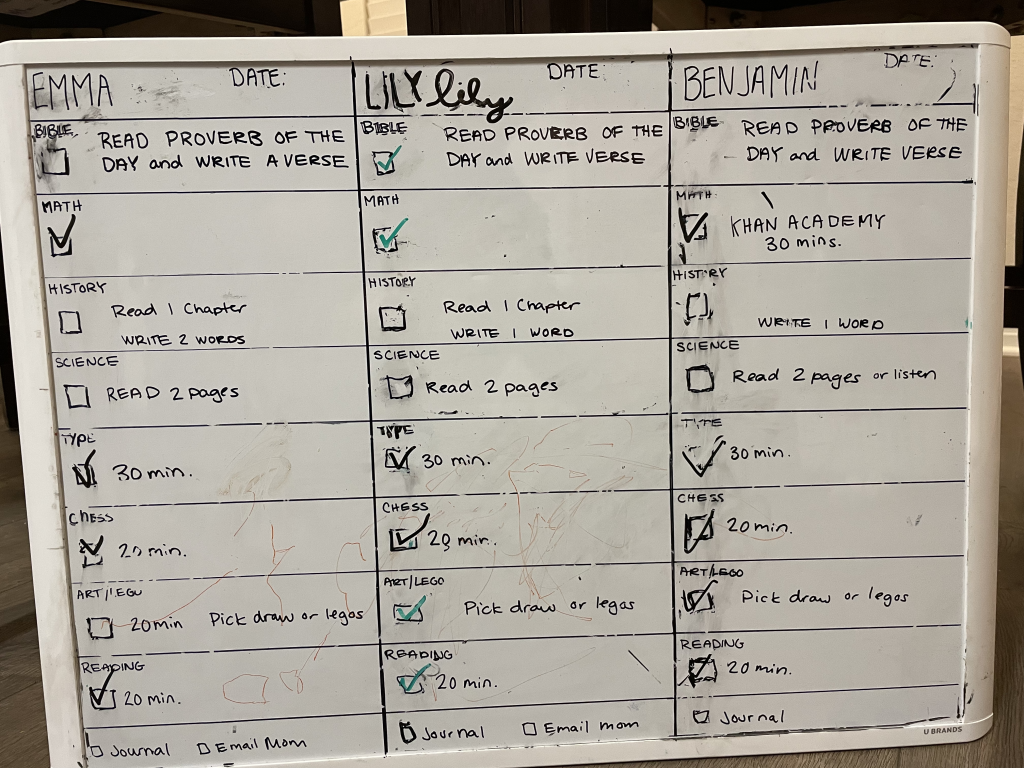 The kids are getting really good at typing and at this rate they'll be faster than me soon. So I may start doing some typing lessons so they don't show me up!
Oh and they've been playing a lot of chess. I signed them up for Chess Kid and they do chess puzzles and watch lessons on there everyday.
It had been a while since I saw them play in real life since they normally do their chess lessons on their tablets. But the other night I brought the actual chess board out and watched them play and was blown away at how much better they got! Apparently those lessons work. The girls move pretty fast but Benji takes his time to ponder his moves more and now he's winning most the games! He even beat Emma the last three times they played. So cool to see he's getting into it.
We also bought annual passes to the local Children's Museum, which is only like 15 minutes away. So Lacie has taken them there a few times. And I went for my first time on my lunch break yesterday. Here's some pics: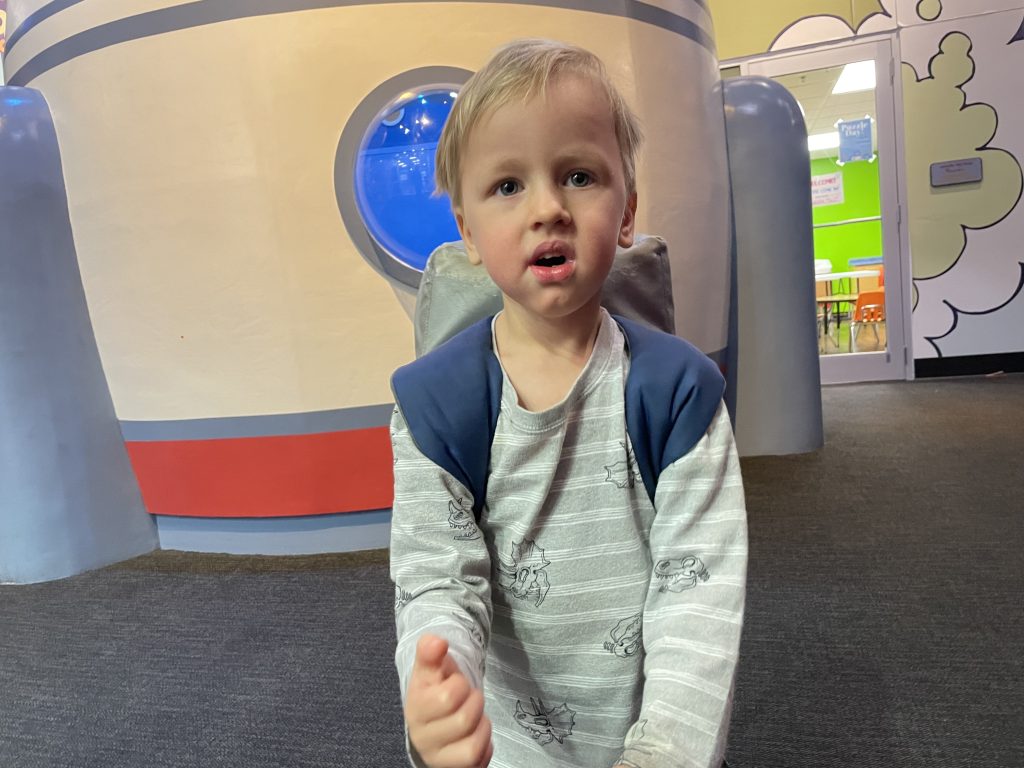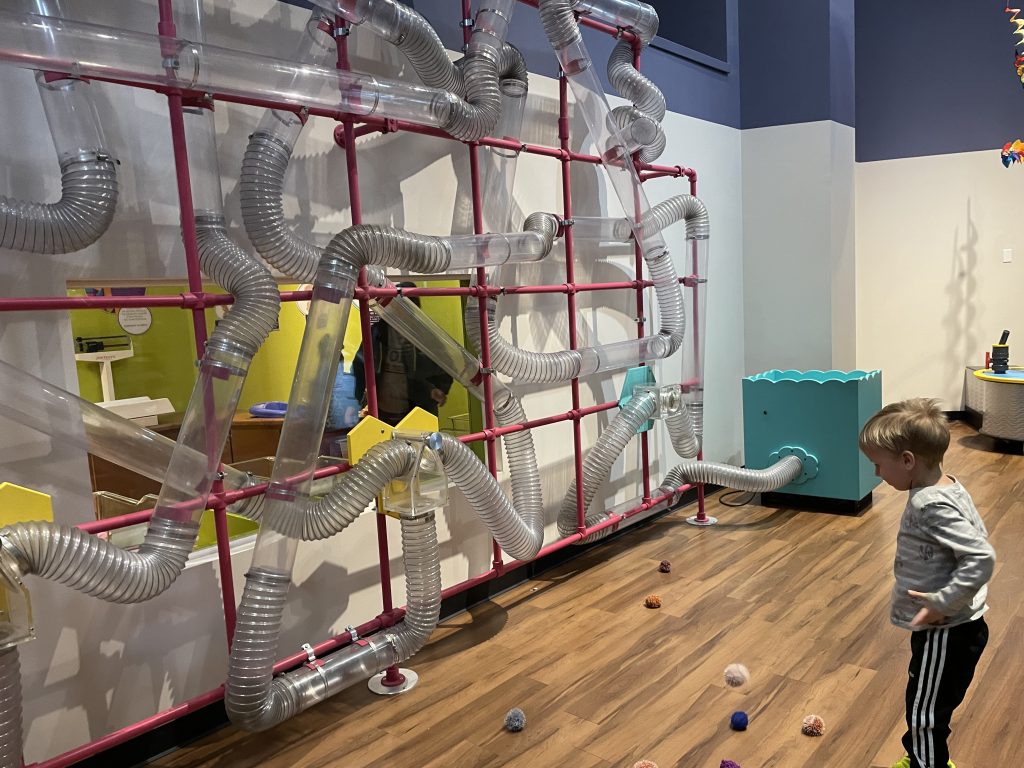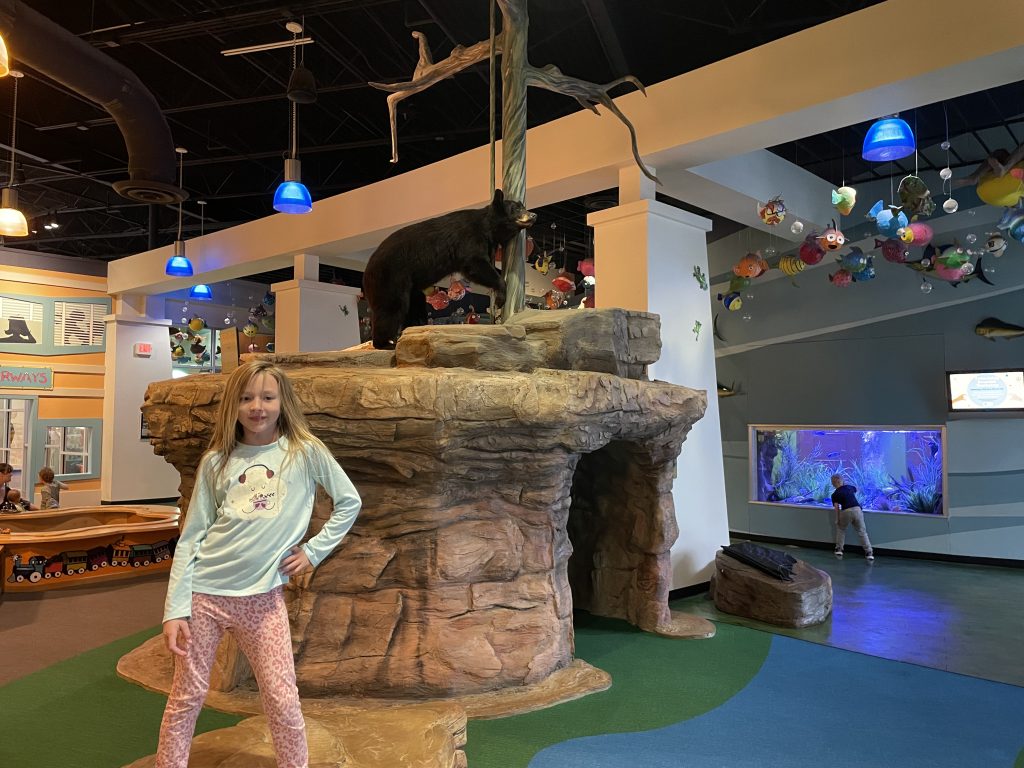 So yeah, the Children's Museum is pretty fun for the kids. We also got a family pass to the rec center, Das Rec, which Charlie asks to go to like every day… He always says, "Can we go to Das Rec? Das Rec is open." Oh and we all got library cards too. When the librarian handed me the cards she said, "On your first visit you can check out 3 books, then you can check out 50 on your next visit."
"Wait, what? Do people actually check out that many books?" I asked. She said some people did. Wow.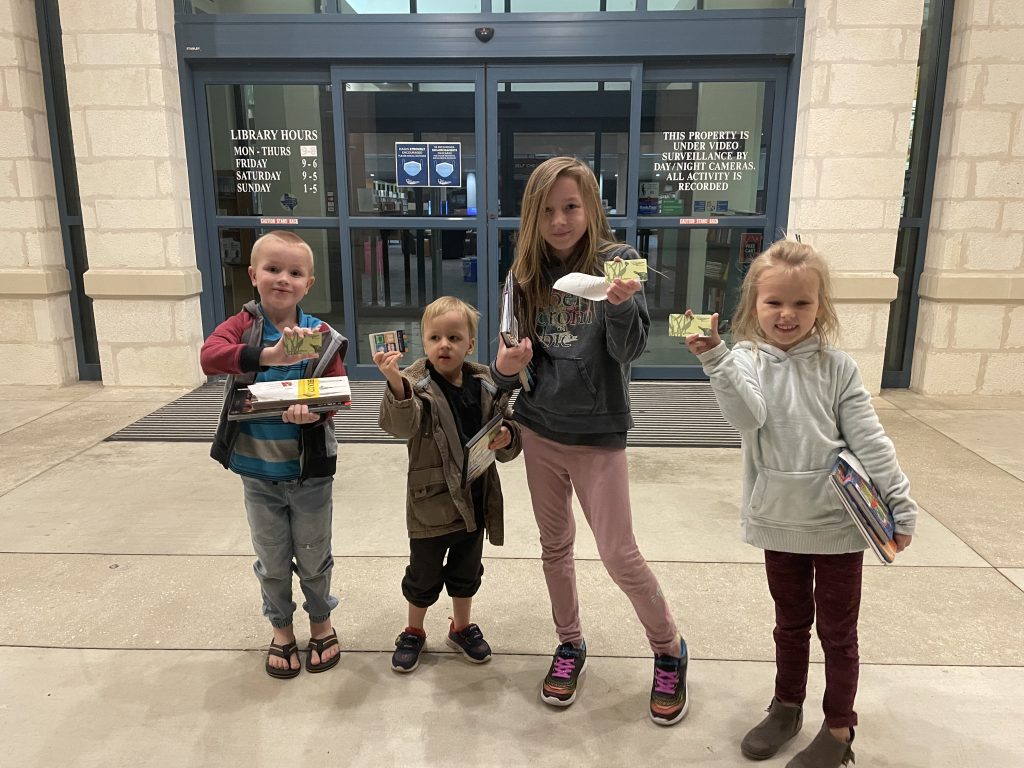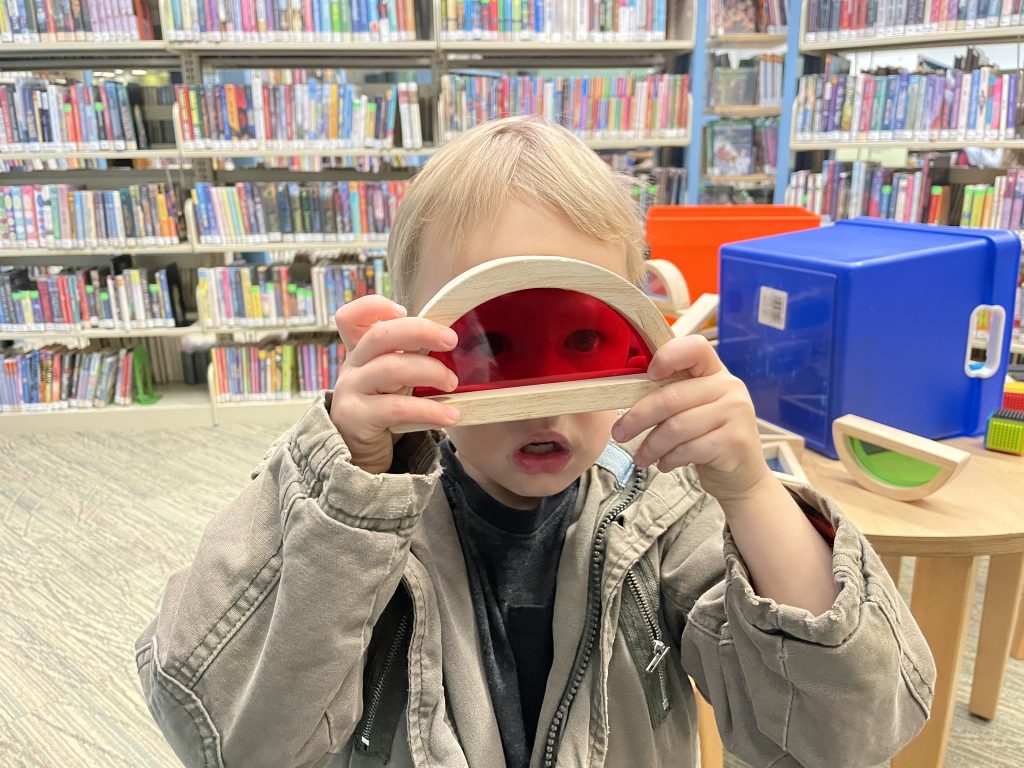 Visiting the Capitol Building
And the kids also got to learn about history and government by visiting the Capitol Building in Austin, which is a beautiful building. Here's some pics from that:
They also learned about caves too! I had to work that day but Lacie, Cailee and Cody and the kids went to explore the local caves which looked pretty cool.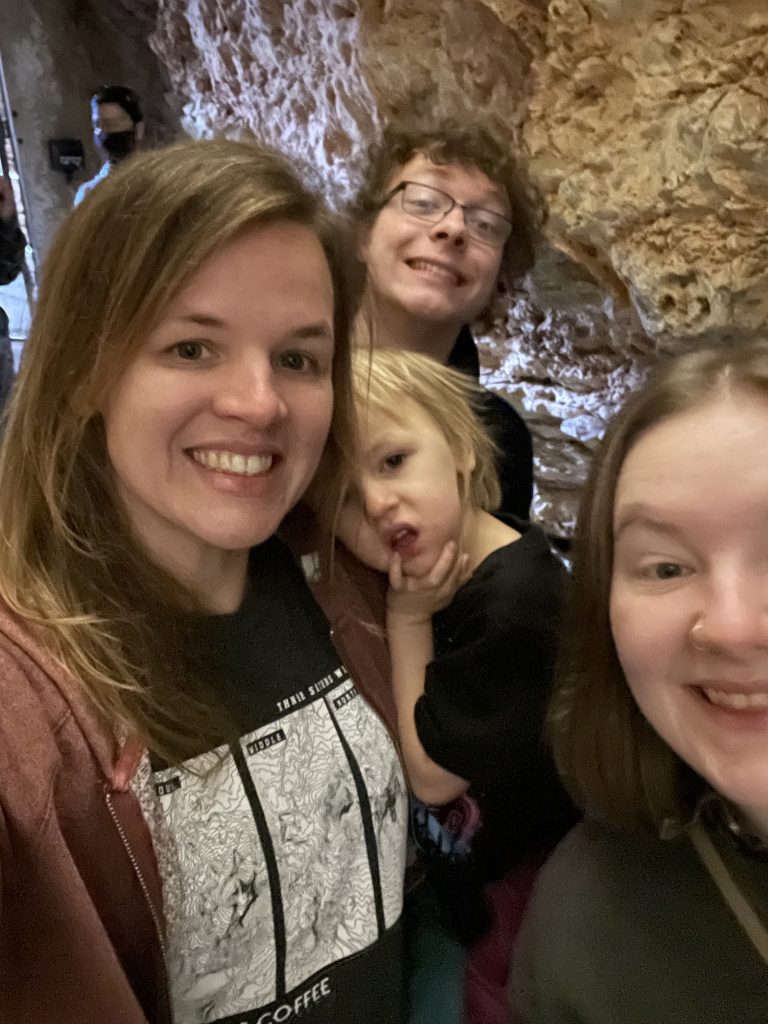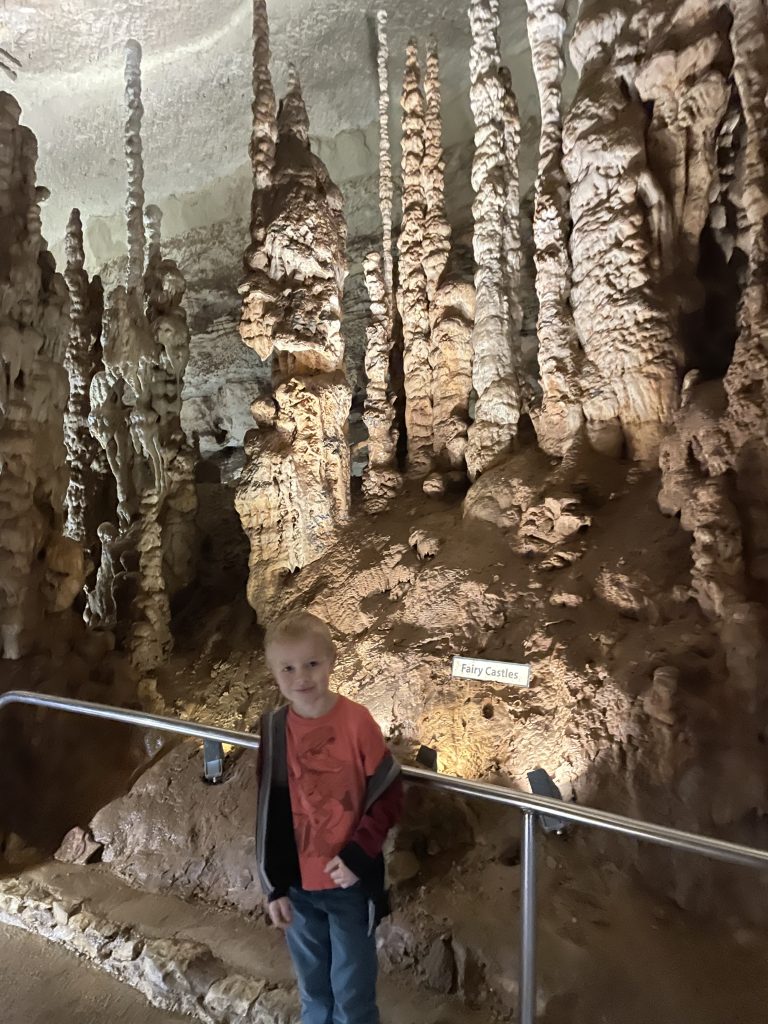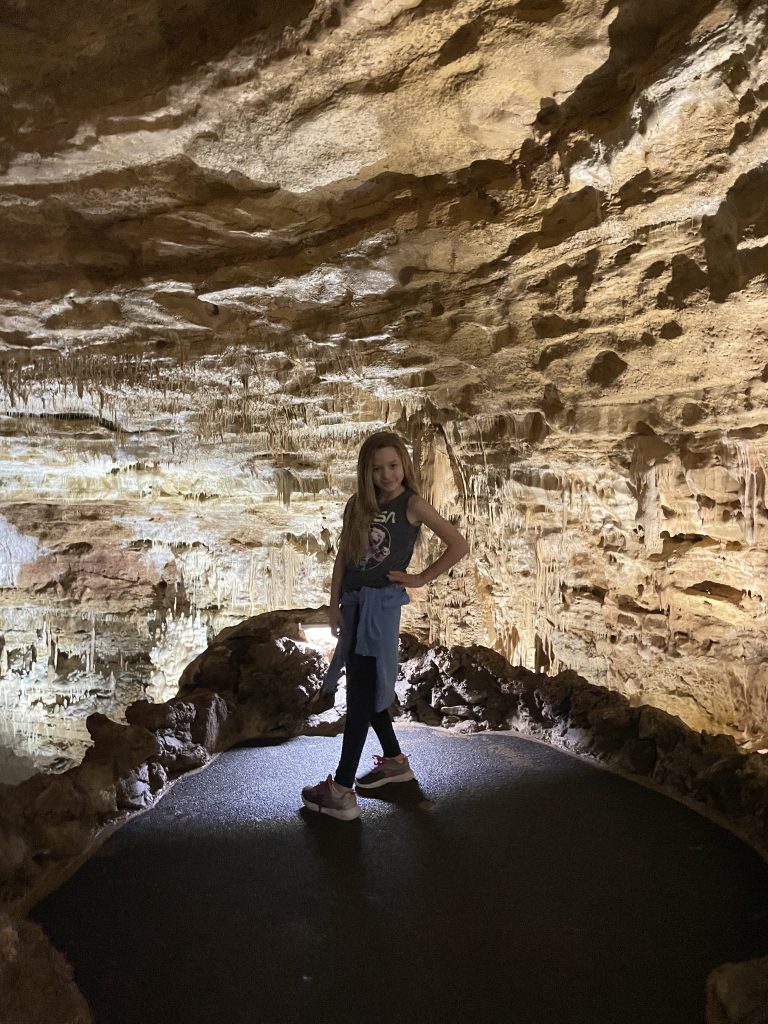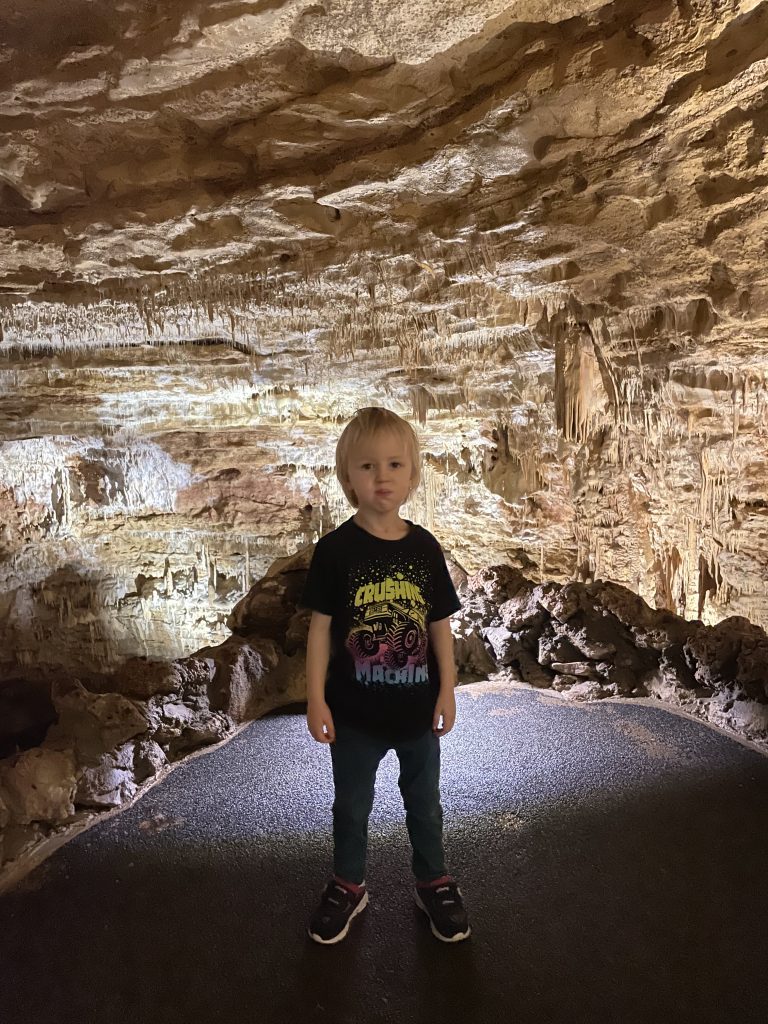 Office Update
For the first few weeks I was working out of the corner of our bedroom here in the Airbnb. But that only lasted so long. It's hard to get any real work done in a little house full of kids who are also here being homeschooled.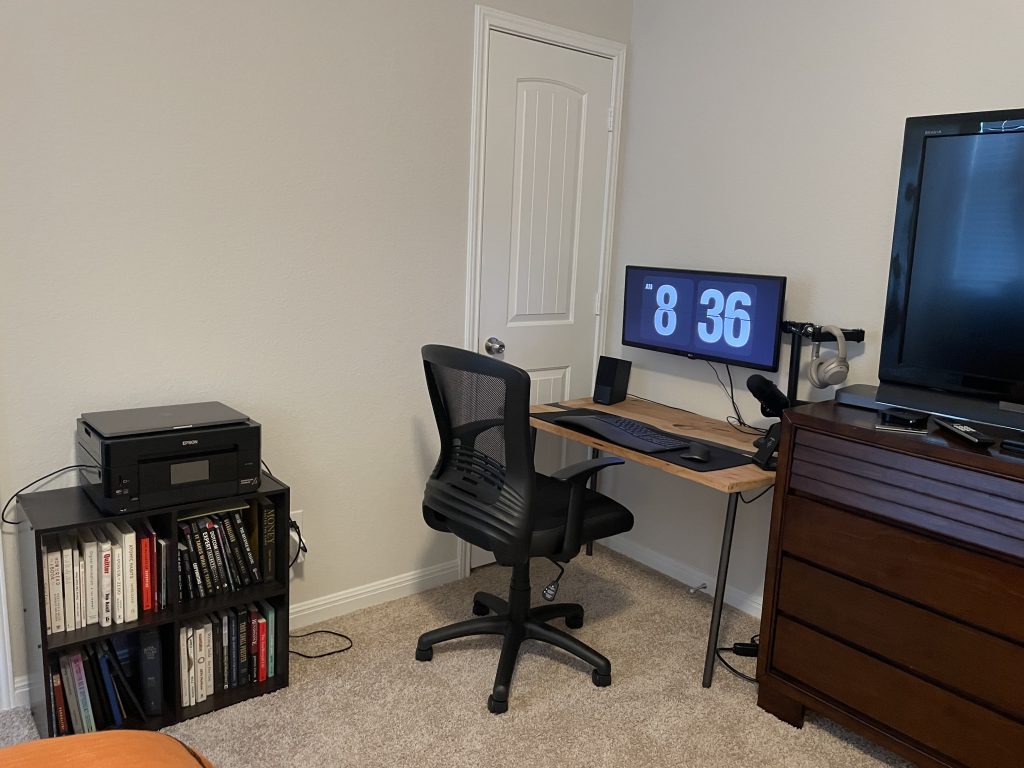 So we looked around and Lacie finally found this co-working place called Creative Spaces here in town. So I rented a small little office there on a month-to-month basis, so that's working for now.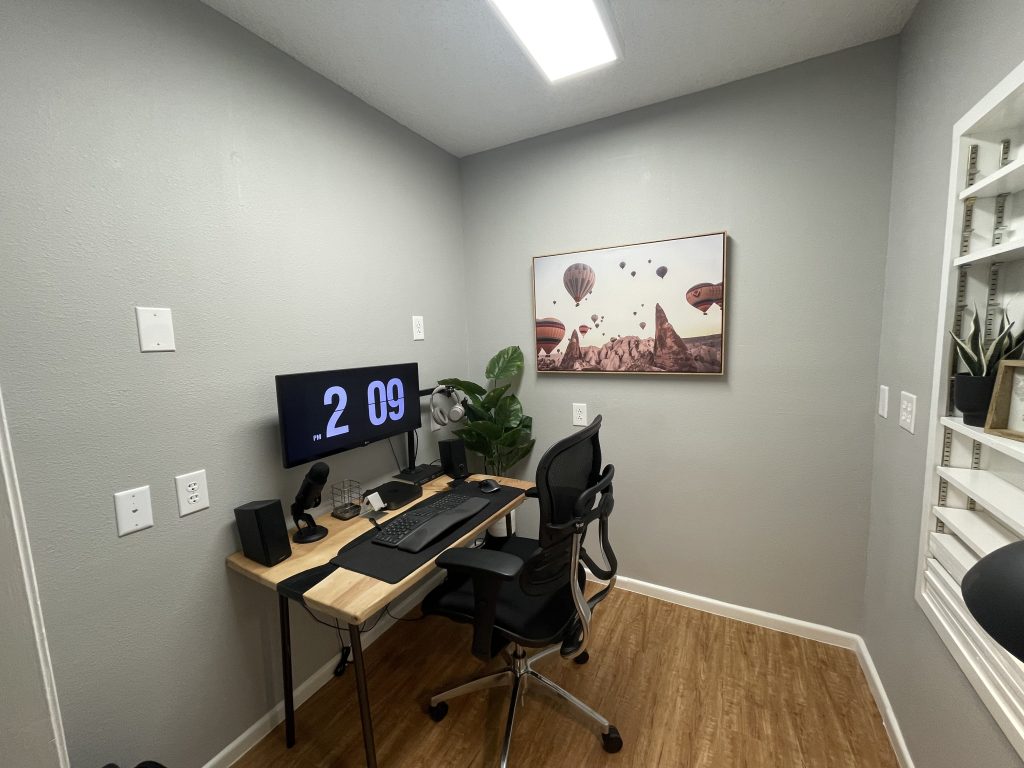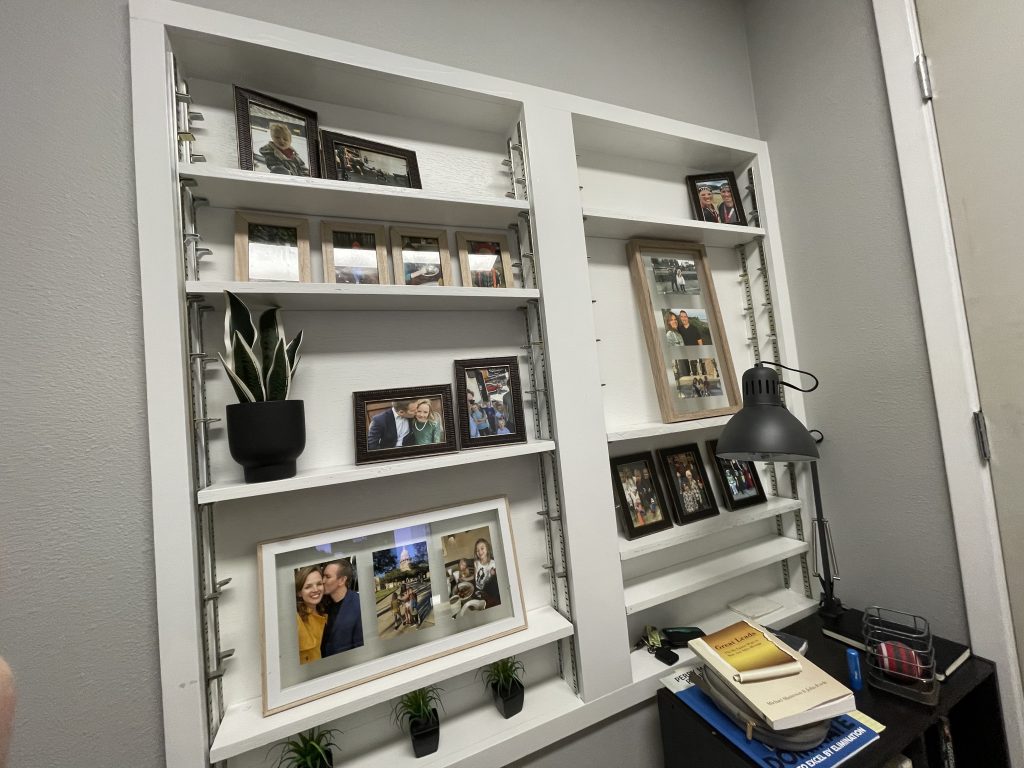 Home Gym Update
We also asked the owners of this house if we could setup our home gym stuff and they said yes. So after our U-Pack trailed arrived (which was on Jan 12) we grabbed our gym mats, squat rack, dumbbells and rowing machine and set it up in the garage (we're allowed to use half of it):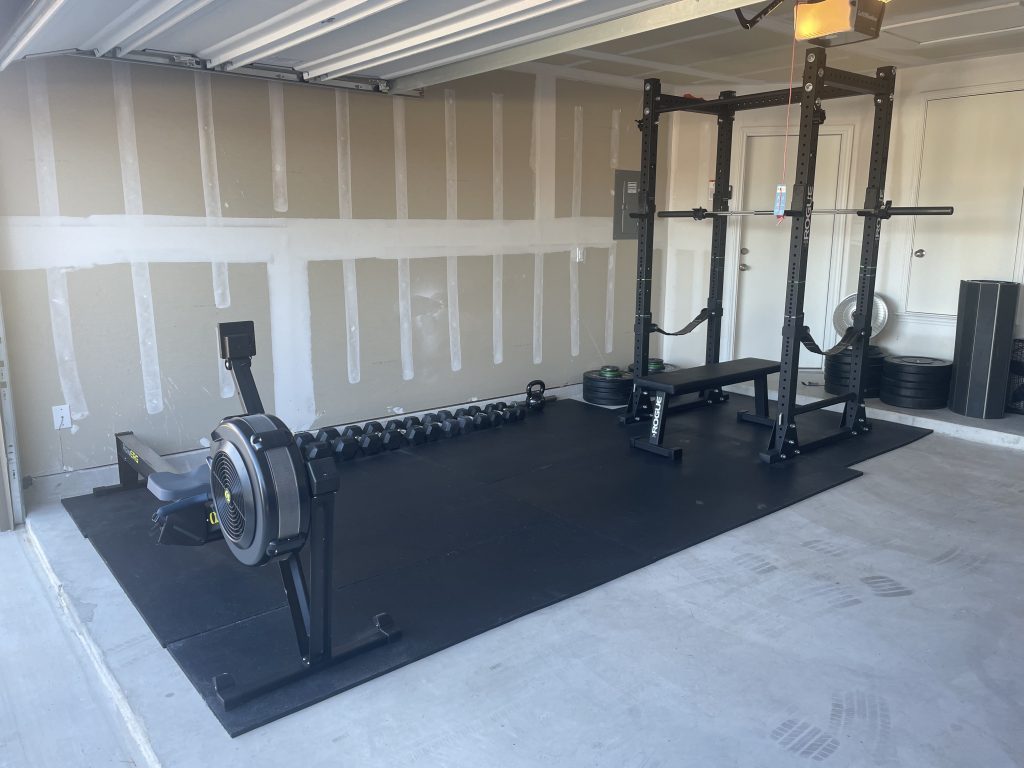 So we've been waking up early and working out there about 5 days a week (Mon, Tue, Thu, Fri and Sat). So feels good to back on a program again. I'm doing something called nSuns which has been pretty intense but I like it. Lacie also is doing a program but not sure what hers is called.
Anyway, that's what we've been up to since we got here! Oh and I almost forgot the most important thing we did since we got here…
We went through a BIG LEAGUE CAR WASH!
After we drove all the way here from Washington our cars were covered in layers of dirt. So we found the best car wash and had a pretty fun time. See for yourselves: