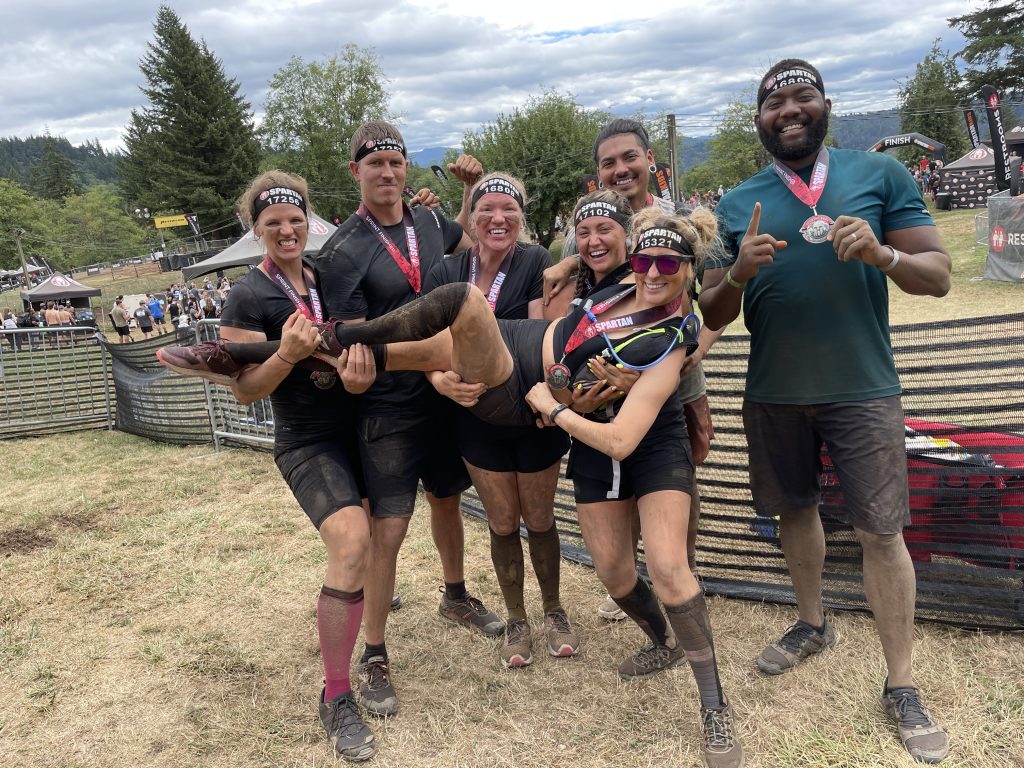 Did a Spartan Race today with: Lacie, Loretta, Sarah, Alphonse, Hollie, and Junior. It was a blast and we all had a good time. We decided to stick together in the race so I stayed back with the girls to help them get past the obstacles, especially the high walls. 
They had us go through waist-high mud right away so we all got super muddy. Then we scaled a couple high walls.
When we got to the first wall I helped Lacie, Loretta and Sarah over but forgot about Hollie, so after I jumped the wall and landed they all looked at me and screamed, "What about Hollie?! You forgot Hollie!" 
I freaked out for a second and felt bad but then realized I could just walk six feet around the wall and go help her, haha.
We did a bunch of other obstacles including: a sandbag carry, bucket carry, sled pull thing, money bars, rings, rope climb, spear throw, crawl under barbed wire, a hoist, sideways wall climb and a couple cargo net things. 
I cleared all the obstacles but I still did burpees (the penalty for missing an obstacle) with the girls after they missed the spear throw.
We all had a lot of fun and afterward we hung out in the festival area. Then we stopped by a restaurant in Washougal on our way home to eat and celebrate. We all agreed we would definitely do this again. And we found out there was a kid's version so next time we'll enroll the kids!
Here's some pics from the race: