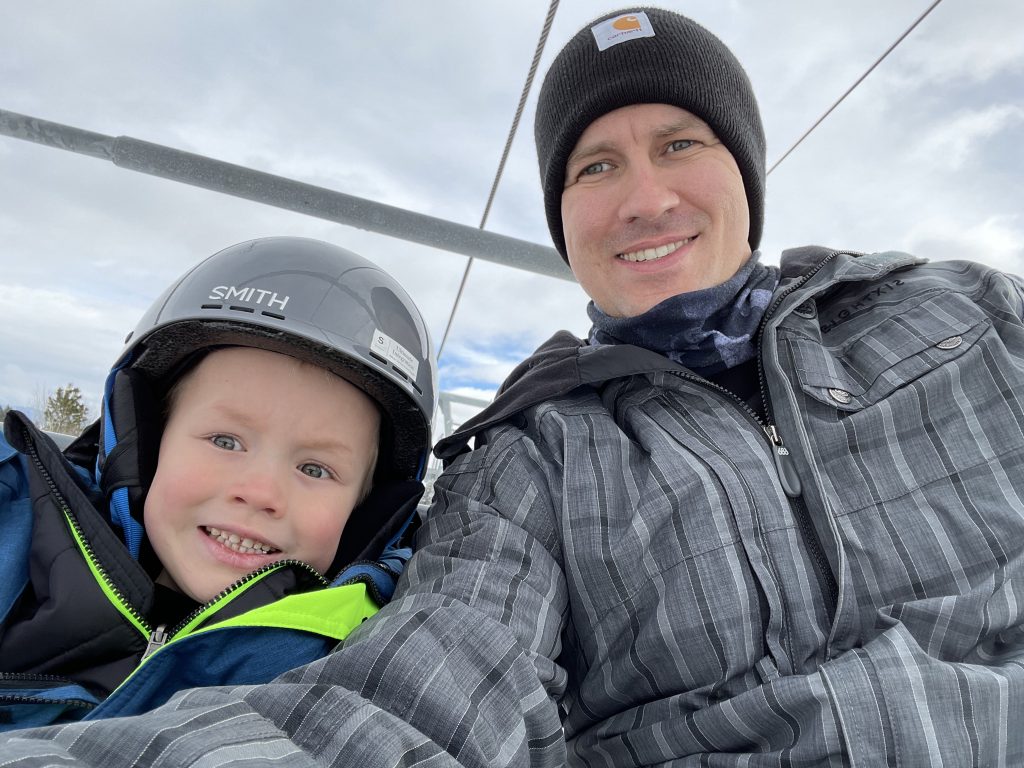 We took a week-long vacation to Tamarack this winter and had so much fun. My sister works at the resort there so we got to hang out with her, so that was cool. Plus, our friends Mikael and Hannah came out for a few nights and stayed at the chalet with us so that was fun too. I blogged a little about each day below.
Drive To Tamarack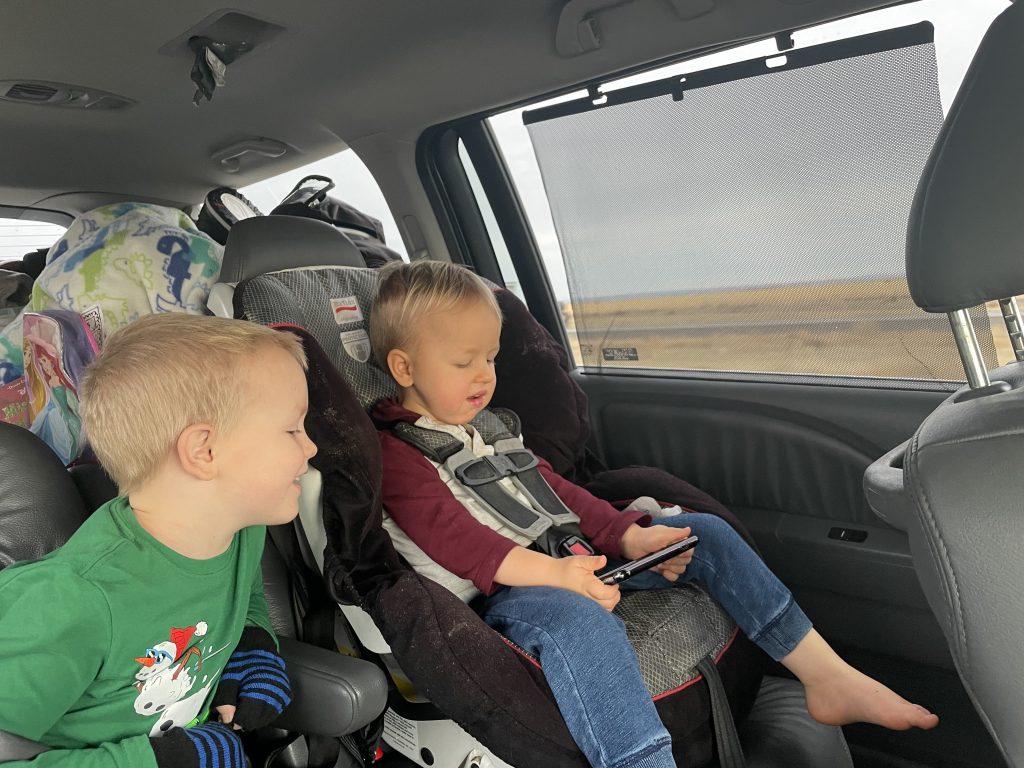 We woke up at 4:00 am. to get ready to drive to Idaho. It took us a couple hours but we hit the roady by 6:00 am. We prayed for a good drive, for everyone to have good attitudes and for the roads to be clear. And 8+ hours later we pulled into Tamarack Ski Resort, realizing all those prayers were answered beautifully!
I'm glad the drive went well. With 4 kids, including a 2-year old, an 8-hour drive in a minivan seemed risky. It could have been really stressful but it wasn't. Lacie and I had some good talks and we listened to a Tim Ferris's podcast where he interviewed the president of Shopify. Got us talking about dreaming big and what we could do with our business.
We arrived at our chalet at Tamarack a little before 4:00 pm. And when I walked in I was super happy about it! Felt like this is the best vacation rental place we've ever had so we're super excited about this week. Here's some pics of the place:
Tamarack Day 1:
Snowboarding with Sarah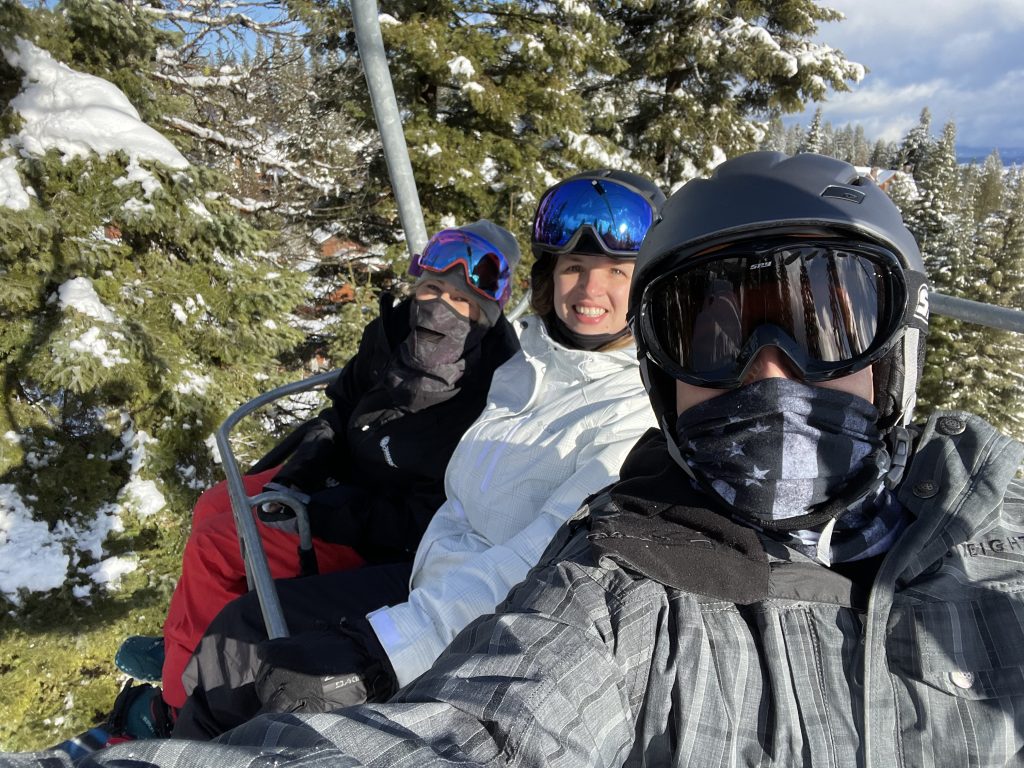 Today was our first full day here at Tamarack. I had to get some work done in the morning but afterward I went snowboarding with Lacie and Sarah.
We dropped the kids off at the daycare here at the mountain and they seemed to have fun. It was so nice to be able to do that so we could enjoy some time snowboarding.
Lacie's board she borrowed from her dad was setup all weird so it took her a while to make her first run. Then we switched and I noticed the bindings were setup on the opposite sides. So fixed that and then we did another run before calling it a day.
We had a nice lunch at a place called The Reserve. And then afterward we hung out at the cabin with Sarah into the evening. Great day today!
Tamarack Day 2:
Benji & Lily's 1st Time Snowboarding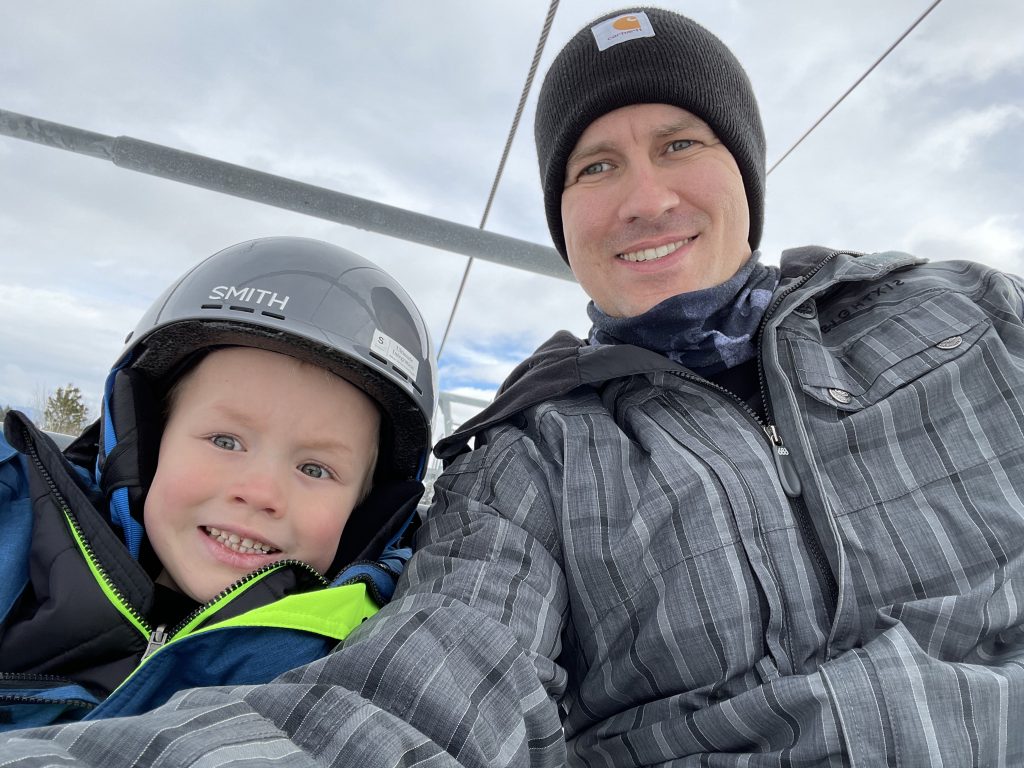 Lacie woke me up this morning and made me do the 50 burpees challenge she was doing with Sarah! I did it in 5:44 minutes and was covered in sweat and gasping for air at the end (but I did win). So started off my day right. Then got ready to hit the slopes.
We dropped the kids off at daycare and me and Lacie were the first people on the lift this morning. We took a run down the bunny hill just to test out the boards before meeting Sarah and doing a run on the main lift. It was a beautiful view from the lift looking back toward the lake.
After lunch we took the kids snowboarding which was awesome. It was Benji and Lily's first time and they did great! They of course fell a lot as they learned but they kept getting back up and started to learn pretty fast. I was proud of them. And they kept wanting to go on the lift. So I think we went like 3-4x's. It was a blast!
Then Mikael and Hannah came over. They got here around 4:45. And we had a good visit with them. It's 11:55 pm right now and I'm writing this upstairs and Lacie is still hanging out downstairs. We took a hot tub earlier and just chilled out and talked tonight. Overall pretty great day!
Tamarack Day 3:
Emma's Snowboard Lesson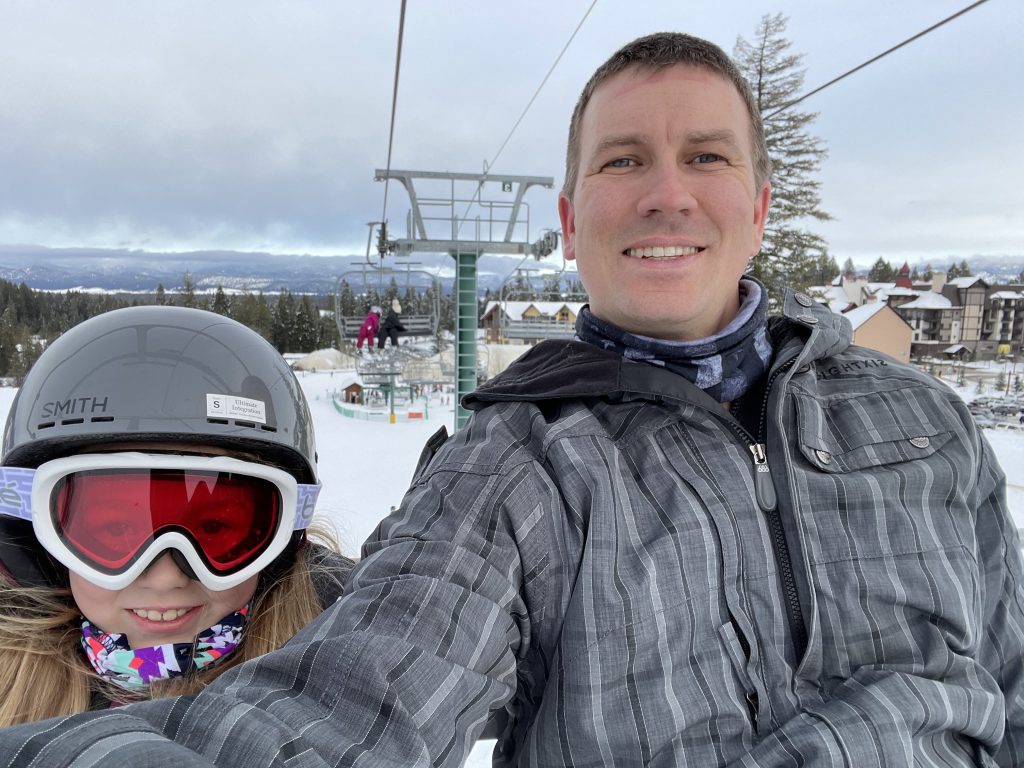 Emma Grace took a 2-hour snowboarding lesson today and learned so much! After I picked her up from her lesson I went on a run with her and she made it 80% down the run without falling. I was super proud of her. We then went down about 4-5 times after that until she finally made it to the bottom without falling at all.
After the lifts stopped running we went to celebrate with Sarah. We got Emma an apple cider and fries and Sarah and I had a drink and an appetizer. Fun times!
Tamarack Day 4:
Morning Snow Hike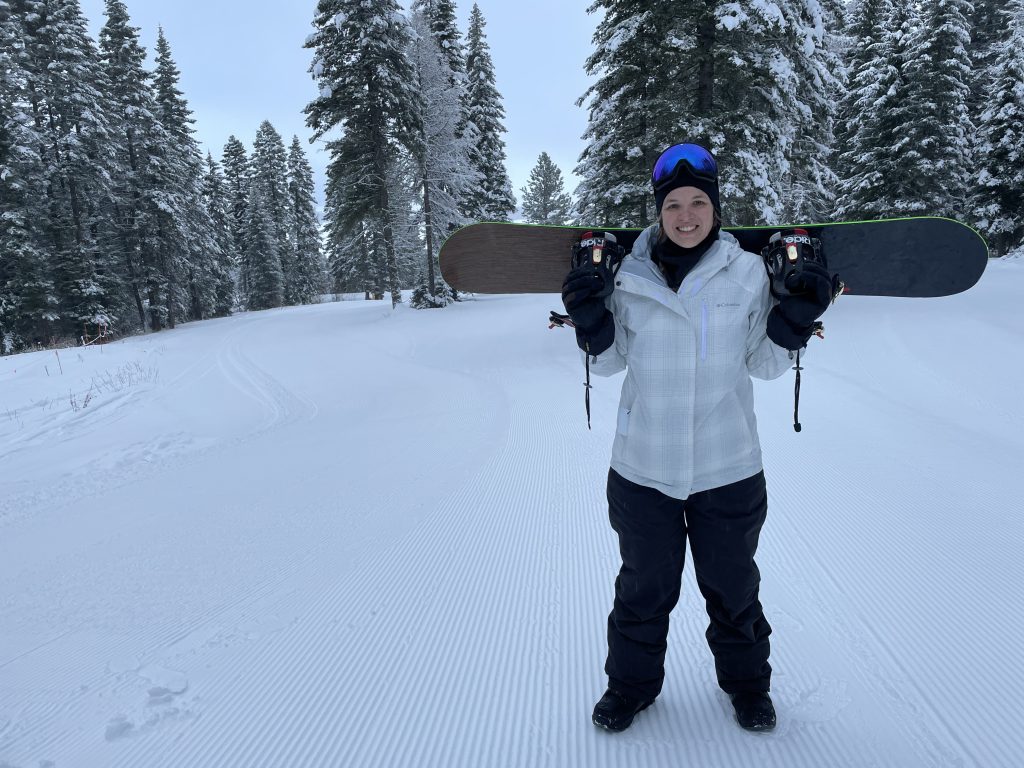 We dropped the kids off at day care at 8:00 am and then hiked up the mountain for about 30 minutes and then rode down. My watch said we climbed 510 feet in 28 minutes and covered .89 miles. We both had a blast doing that.
It was a good workout, plus it was fun to be on the mountain before anyone else so we could ride fresh snow. Afterward we had coffee before picking up the kids and heading back to the chalet.
Then we hung out around the house for a while. I watched the Seahawks game on my phone and then played card games with Mikael and Hannah while Lacie was out doing something. Then she came back and we played more games.
Mikael and I drove into Donnelly, the nearby small town, at one point to get firewood, a hatchet and some supplies. We talked about music, church and working out on the drive there and back. Another good day.
Tamarack Day 5:
Kids' Snowboard Lessons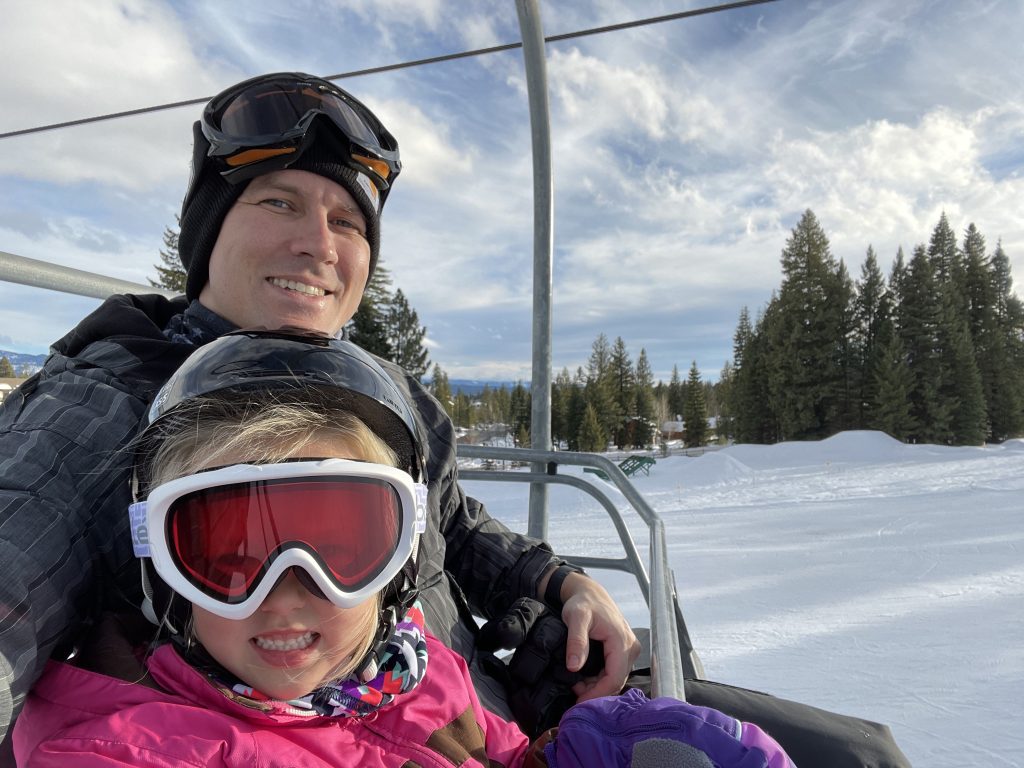 We took Lily and Benji to their snowboard lessons at 9:30 this morning after dropping Emma and Charlie off at daycare. Then Lacie and I went to the coffee shop because I had to get some work done. Sarah met us there after a bit and her and I worked from there before we picked up the kids from lessons.
Then we had lunch and I went to Sarah's office and worked there for a couple hours before going back to the house, getting Lacie and the kids so we could get one more hour of riding in before the lifts closed.
I got to go up several times with Lily and I was so proud of how much she improved from her lessons! Benji did too but Lacie was with him on the magic carpet so I didn't get to see him as much. So another fun day!
Tamarack Day 6:
Bumper Cars in McCall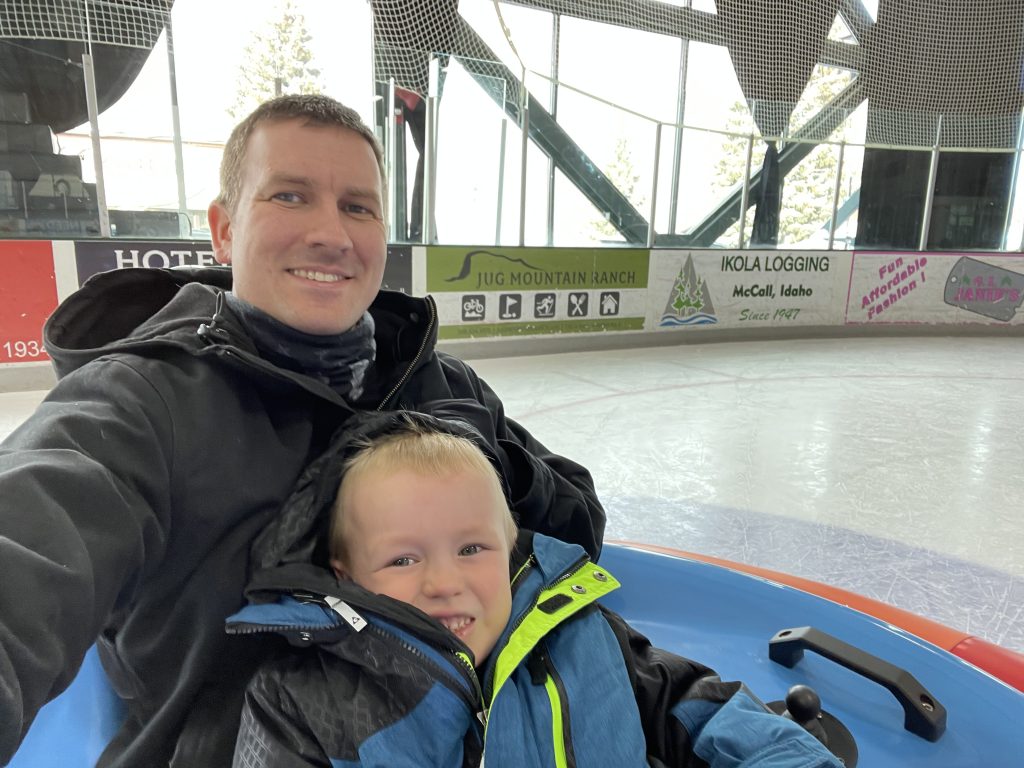 Today was a fun day. Hiked up the mountain again this morning with Lacie and boarded down which was fun. Then had coffee with Lacie and worked some from the coffee shop. Had a call with a new client which went really good.
Then came back to the house and packed up the kids and we all went to McCall. We did bumper cars at the ice rink and had a blast! Then walked around McCall before coming back to Tamarack. It's a fun town to explore and we got some souvenirs at a little shop.
Drive Home from Tamarack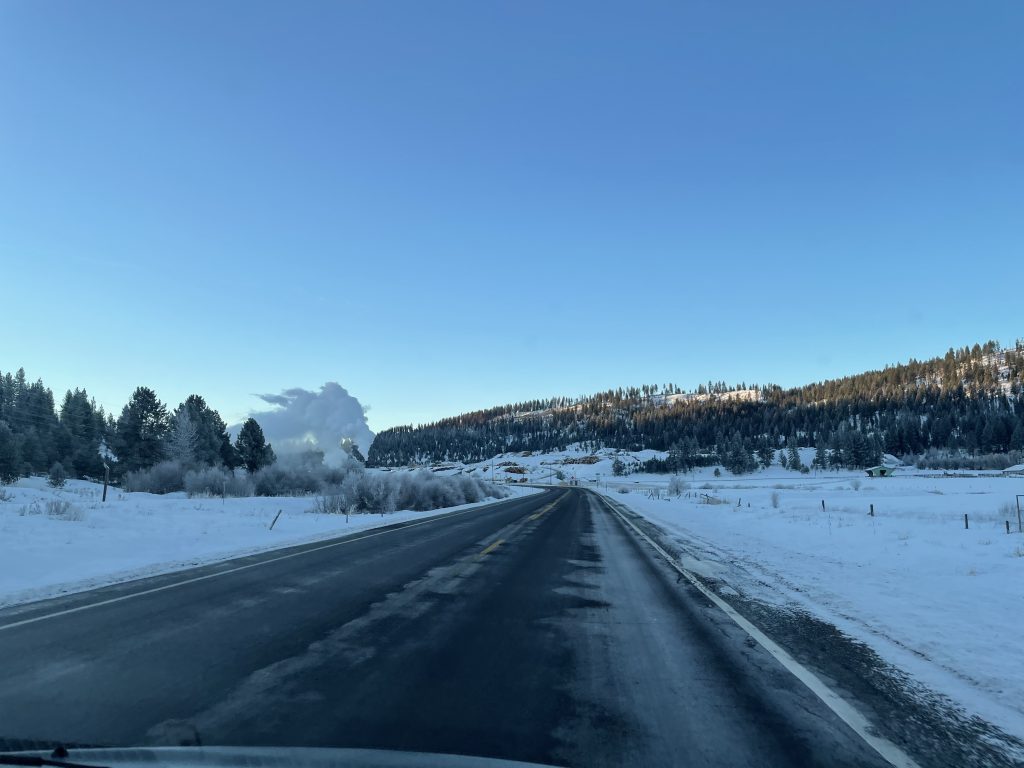 We left Tamarack around 7:00 am today and got home around 4:00 pm. The drive back wasn't too bad. Charlie refused to take a nap so he was really crabby. Lacie and I had some good conversations and we listened to a podcast of Tim Ferris and Leo Babauta. Leo talked about how he grew his blog to 2 million readers which was interesting. His focus is simplicity, which obviously hit a nerve with a lot of people. Made me think about blogging and what to focus on for my other blogs.
Overall, this was a very fun trip. And we'd love to come up here sometime. Being able to stay on the mountain was a unique experience and I really enjoyed it. So I'm sure we'll be back sometime!