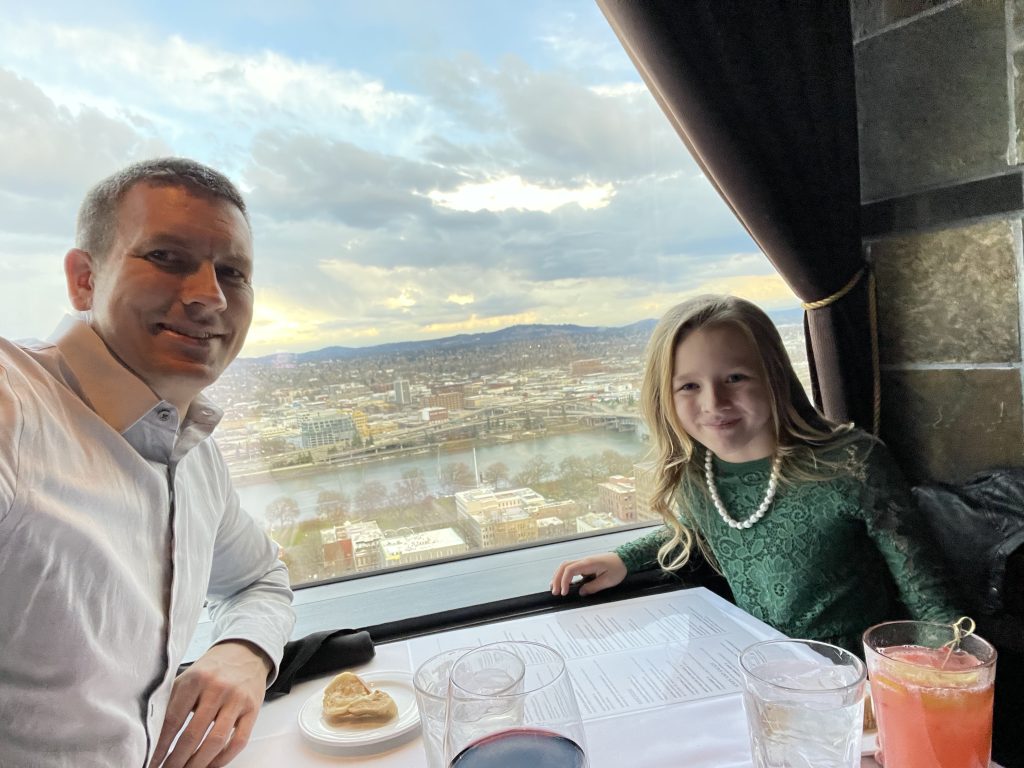 Had a wonderful date with Emma Grace tonight.  Back when she was six I promised I'd take her to Portland City Grill when she was eight. She turns nine next week so I was running out of time to make good on my promise! 
We had a great time. Lacie bought her a new outfit and she looked all grown up in it. We took a bunch of pictures at the house before driving my big red truck down to Portland.
On our way down she kept asking about the tents, garbage and "scribbles on the walls." I told her some people don't have respect for other people's property so they'll throw their trash out and paint on the walls. She did not like that at all and asked me several times why they do that. She just couldn't comprehend why people would act like that (and I don't really blame her).
We had reservations for 5:15 and arrived a little early. They seated us right by the window, which I had requested. Emma thought it was so cool to see the whole city from our table. She ordered a strawberry lemonade which said it was "a 10!" And she really liked the bread too. She also ordered sushi for her main meal and ate almost all of it. I had the filet mignon.
During dinner she said, "I'm going to practice my best manners." And she did so good. Toward the end of dinner she asked me how I would rate her manners and I told her I'd give her a 10 and that she's a great date. She was so nice to our server too, at one point telling him, "Thank you for bringing us our food."
After dinner we walked over to VooDoo Doughnuts, which we could see from our window seat, and got some delicious doughnuts that we ate on the sidewalk. Then we drove to the mall, took some pictures in the photo booth before going to Hobby Lobby where I let her pick out something (she chose a little stool with this purple cover thing). It was a wonderful night and I just felt so grateful to be able to have this time with my daughter who is getting so big!