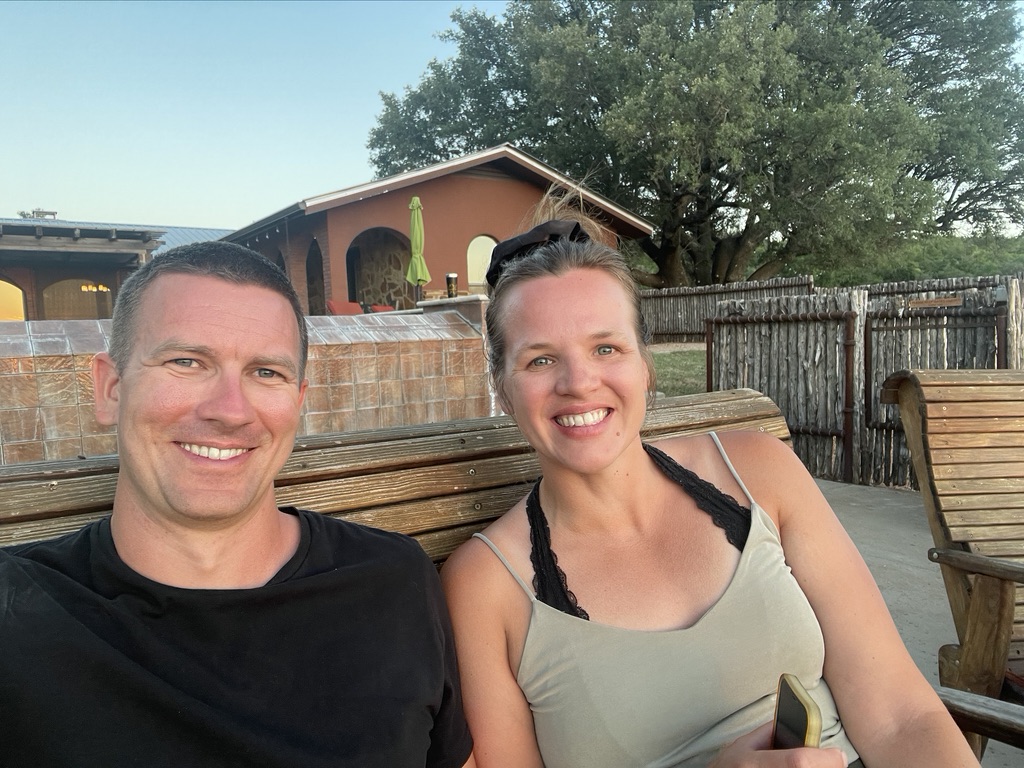 We celebrated our 13th anniversary and our birthdays at place called Tres Lunas this year. It's a small quiet bed and breakfast just outside Fredericksburg. And it's one of my favorite places we've ever stayed, mainly because how quiet and peaceful it was there. After our first day there I told Lacie, "I don't know if I've ever felt so relaxed in my entire life, great choice!"
The owner was super nice and friendly and a great cook. She made us breakfast and dinners which were all amazing. In the mornings we would go for a nice 2-mile hike around the 2,000 acre ranch. The owner's two dogs accompanied us on our walks which was fun too. I loved watching how free they were to run around on all that land.
On our first day there, we came back from our walk and enjoyed a delicious breakfast our host made. It was eggs, hash browns and bacon, but made perfectly. After that we hung out in the pool before leaving to our couple's massage in town.
After our massage we walked around Fredericksburg, a town we instantly fell in love with. We agreed we'd come back here again. We got coffee, went into a couple art galleries and stores and then had a great lunch. After that we drove back to Tres Lunas and hung out around the pool until dinner. 
That night our host made us an Italian meal she recently learned in Italy. It was so good and we had such a beautiful view outside as we ate. Afterwards we sat outside and watched the sunset before heading to our suite. I don't think I could've asked for a better day!
The next day we slept in a little before going on our morning walk before breakfast. Then we drove to town and explored some more before coming back for lunch. On the final full day we were there we went on a 4-mile hike before breakfast. Then we hung out at the ranch all day.
It was such a relaxing trip and I'm so thankful Chloe was able to come and watch the kids so we could escape for 4 days. I definitely want to come back here!