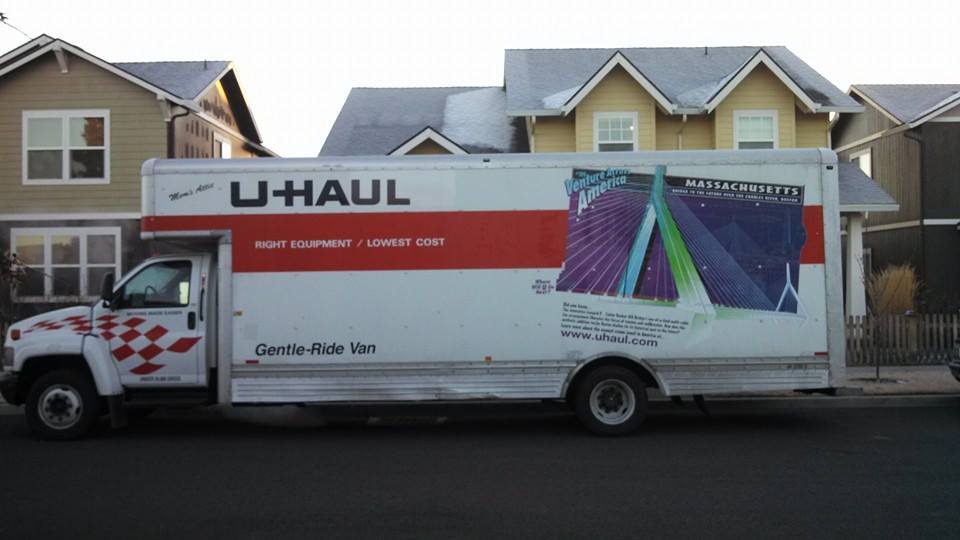 On Saturday, January 25th we moved into our new home in Washington.
Here's how it happened…
This last Thanksgiving we decided we wanted to move home. Bend is a beautiful city to live in but it's just not home. And with Baby #2 on the way (due any day now!) we decided this was the right time. Lacie and I both agree that raising our kids around family is important to us. Plus, I got tired of Lacie being gone so much up in Washington. She'd go up to visit about every 5-6 weeks for a few days while I'd be in Bend missing her and Emma Grace. 🙁
After our Thanksgiving talk we discussed it some more over the next several weeks to make sure this really was what we should do. An important factor we had to consider was breaking our lease. Our lease wasn't up until September and the fee to break it was 1.5x one month's rent (which came to $2,625). There was also a good chance that my work, Agency Revolution, wouldn't allow me to work remotely full-time. And on top of all that, Lacie's due date was March 1st (so the move would have to be at least a few weeks before this or after).
So during the last week of December Lacie was gone for a week up in Washington (again!) to sing in her cousin Jennifer's wedding. And I took some time to practice "vision mapping" (a biblical concept I learned from Steven K. Scott). It's based on Proverbs 29:18, "Where there's no vision the people perish…" It's like goal setting but different. Basically a vision is an area of your life you want to see significant change in.
And one of the "visions" I worked on was to move home before we had the baby. Which would mean I'd have to have a great month income-wise in December/January. I remember writing the dollar amount down and resisting the temptation to immediately try and figure out the details (part of the vision mapping process is to suspend the "how" questions until later).
So instead, I focused on the "what" instead of the "how". And the results were awesome! God is so good and faithful. That month I made a little more than the amount I wrote down. And we had more than enough to pay our lease-break fee, moving expenses, normal expenses and put some money in the bank.
How we found the house
I researched rental houses online and scheduled a few appointments for Lacie to look at while she was still in WA. When she got back to Bend I watched a video of the house she really liked. It was a 2-story, 3-bedroom house near a river with a big soaking tub in the master.
So we called the owner and faxed over our rental agreement and paid the deposit and first month's rent. And then on Friday, January 24th we hired movers to come and load up a U-Haul… we were headed home! We spent one last night in our house and then left Saturday morning. I drove the U-Haul and Lacie drove the minivan with Emma and my brother Daniel in it (he came down to visit us that last week in Bend).
We got to our new house in the afternoon and I had to do the longest walk-through of my life with the landlord! He's a nice guy. Just VERY thorough. After that Lacie's family came over to help us unload (if you're reading this, a big thank you to: Ben, Tiff, Chloe, Cailee, Rocky, Harmony, Rondy, Tanaisa, Roman, Heidi, Henry and Loretta!).
6 weeks later
Now here we are 6 weeks later and still loving it! Life is simple and quiet out here. There's a river about 30 feet from the house that we get to listen to every night when we take our bath. We just open up the window, turn on the candles (yes, we turn them on) and relax. And I'm loving it because I get to work from home every day now. In Bend I would work from home 2 days a week and those were by far my most productive days. So now I'm getting much more done and I'm more relaxed because I have a 5 second commute and I get to stay in my sweatpants all day. But more most of all, I get to see my beautiful wife and adorable daughter more. I have to say life is good. I'm thankful.
New baby on the way
Like I said, we're expecting Baby #2 any day now! Lacie's due date was March 1st but I read only 5% of babies are actually born on their due dates. So we're not freaking out (not yet at least!). But of course, the sooner the better… especially for Lacie.
We decided not to find out the sex of the baby this time. So we've been talking about boy and girl names. There's a couple we both like for each. And one boy name we both really like (just found that out today). I'll tell you if we actually use the name. 😉
So we're just playing the waiting game now… doing things to pass the time (like writing!). And Lacie went to the mall today. She just called me and let me know she saved $420 at Macy's and only spent $120 and got a ton of clothes for me and some for Loretta's baby.
Well I hear Emma Grace waking up now so I better wrap this thing up. I just figured I'd better update the "Family Blog" with these two important changes.
Looking forward to sharing some baby pics on my next post!