(Scroll down for updates on Charlie.)
Charlie was born at home on February 27th at 5:29 p.m. You can read more about the birth here. After about 5 hours we called 911 because we noticed how much he struggled to breathe. In the Emergency Room they suctioned out a lot of fluid from his lungs, nose and mouth. Then they admitted him to the NICU where they diagnosed him with Pierre Robin sequence.
Pierre Robin is a set of abnormalities affecting the head and face, consisting of an underdeveloped lower jaw and a tongue placed further back than normal, which cause a blockage of the airways.
I started blogging about Charlie on the third day we were at the NICU so I could share updates and prayer requests with everyone.
Click here for updates from Weeks 1-2.
Below are updates from Week 3:
---
March 18 @ 9pm –
Day 4 of the Distraction Process
Update: Today was the 4th day of the Distraction Process to extend Charlie's jaw. They're advancing his jaw by 1.33 mm a day, so it should be 5.32 mm longer than it was before they started the process. Several people have said it looks like his jaw already looks different. I think it might look different too but it's hard to tell if it's just puffy from everything or if it really is longer than before.
5.32 mm is such a small amount anyway, so I feel like we'll notice it more after a few more days of this. One thing Lacie and I both noticed was that Charlie's tongue seemed to be coming out more. Before it was so far back that you barely saw it. So that was good to see his little tongue come out every now and then.
Lacie got to hold Charlie for a couple hours today, which she really enjoyed. She hasn't got to hold him as much as I have over the last couple weeks so it was great to see her get to spend so much time with him today.
Prayer Requests: Please continue to pray for the Distraction Process to go as well as it can go. Pray for Charlie's jaw to be extended just right so he can breathe normally on his own and also eat normally too. Pray for his pain to be minimal and for the surgical team to continue to do an excellent job with the turnings he gets twice a day.
---
March 17 @ 11pm –
Day 3 of the Distraction Process

Update: Today was Day #3 of Charlie's Distraction Process, where they turn the device attached to his jaw two times a day. About 30 minutes before each turn the nurses give him a morphine bolus before the surgical team arrives to do their thing at 6:00 a.m. and 6:00 p.m. He seems to be managing these turns well. You can tell if he's not because his heart rate increases, tears form in his eyes and his face squishes together. This happened the first time before they got his pain medications dialed in right, but since then he seems to be handling them well.
Yesterday I got to hold Charlie for 3.5 hours at one time! I loved it. With his breathing tube in it's a lot more work to hold him. Now it takes two people, the respiratory therapist and a nurse, to help me get Charlie out of his bed and unto my chest (before his surgery I only needed the nurse to help). So when I get all setup I try to make the most out of it! When he's on my chest I have to make sure he doesn't turn his head the other way because of the breathing tube. But he mostly just slept the whole time.
The physical therapist came in today to show us how to massage his little body so he can get used to what they call "positive touch." We want him to associate being touched with positive things, not just negative things, like getting an IV or getting his jaw extended. So Lacie massaged his legs and toes. They said we can do this once a day.
Today was also Emma Grace's 6th birthday! So Lacie and I spent most the day with her (Lily and Benji are at Ginny and Grandpa's). We had a great time!
We started our day by taking her to Mother's in downtown Portland. Then we came back to visit Charlie with Mary and Pita. Then we went to OMSI and then had lunch at the Game Knight, a board game lounge where we played Hungry Hungry Hippo, Balderdash and some My Little Pony game. On our way back we stopped by Compass Coffee where she got a hot chocolate. This was the longest I've been off the hospital campus since Charlie was admitted 18 days ago. So I kind of felt like I was back to "normal" life for a bit today.
Prayer Requests: We really appreciate all the prayers and support we've gotten from our friends and family. So thank you! Please continue to pray for the Distraction Process to go as well as it can go. Pray for his jaw to be extended just right so he can breathe normally on his own and also eat normally too. Pray for his pain to be minimal and for the surgical team to continue to do an excellent job.
---
March 15 @ 10pm –
Day 1 of the Distraction Process

Update: Today was an eventful day for Charlie. Yesterday he had the surgery where they seperated his jaw bone and attached a "distraction device" to each side of the seperated bone. The plan is to advance his jaw 1.33 mm a day for 2 weeks until it's extended a full 20 mm. And so today was the first day they turned the distractor arm. They did it once early this morning and then again tonight.
I watched them do it today and it was not fun to watch. They have a little tool they use to turn the device behind each ear. It looks like they're turning a screw and even though he's on morphine I was still cringing for him when they turned it. At one point, one of the doctors from the surgical team who turns the device said, "I know it seems like this would be really painful but it's not too bad because we're only turning it a small amount each time."
"How do you know? Have you ever had one in?" asked one of the nurses who was standing across from him on the other side of Charlie's bed.
Yes, you tell them! I thought.
I love the NICU nurses here, they're my new heros. We decided that our new rule is that one of the nurses must be in there whenever the surgical team comes in to do their distractor turns.
Charlie also had a PICC line inserted today to replace the IV. Apparently IVs only last 24-48 hrs and PICC lines can last up to a month. So this will spare his veins from the frequent "needle sticks" that he would have had with an IV.
Tomorrow will be Day #2 of the distractor turning procedure. He's scheduled to have it turned at 6:00 a.m. and 6:00 p.m. each day. So I'm going to bed now so I can wake up early to be there for his morning one.
Prayer Requests: Pray for Charlie to not be in pain. Also pray for protection against any infection around the distractor device and PICC line. Also pray for the distractor procedure to work the way it's designed to so his jaw gets extended just right.
---
March 14 @ 4pm –
Charlie Back from Surgery!
Update: Charlie is all settled back in his room now. I met with the surgeon, Dr. Patel, and he said everything went really well in surgery! He made the incisions as planned. The ENT doctor was there just in case they needed additional help getting his breathing tube in, which they didn't. So that was good. The anesthesiologist said there were no issues giving him the anesthesia. As you can see in the photo above, his eyes are open, but he's still pretty sedated.
Dr. Patel said the plan is to turn the distractor device 1.33 mm a day until they reach 20 mm (2 cm). So that will take about 15 days. They'll do that twice a day – once in the morning and again in the afternoon. So then we'll see if we can take the breathing tube out so he can breathe on his own. And then he'll need to learn to eat. They told us to plan to be here another month — 2 weeks for the distraction and then another 2 weeks for his recovery and for him to learn to eat.
Prayer Requests: Pray for a speedy recovery for Charlie. Also pray that the distraction technique goes great, that it moves his jaw forward correctly so he can have an open airway. Also pray for protection against infection around the areas where they operated. He's MRSA-positive, so we're praying he doesn't have to deal with any infections on top of everything else. Also give thanks to God for a great surgery!
And later, after I get a chance to process everything when I get some time alone with God, I'll try to share about the issue of Charlie not getting healed before the surgery. I know a lot of you were praying with us that a miracle would take place so he could avoid surgery. That of course didn't happen. And that can feel disappointing. As I thought about this I remembered a sermon I heard from Bill Johnson about six years ago about disappointment. I listened to it again today and it encouraged me. It gave me some tools to work through some of these feelings. You can listen to it here if you want.
As you can imagine, it's been an emotional roller coaster the last couple weeks. But overall I can honestly say I've had more peace than fear. God is good and He's been here with us through it all. I know He doesn't cause these things to happen but like a good friend and father, He's right here with us. Thank you all for your prayers. We'll continue to pray — just shifting our focus to Charlie's extractor process now! I'm just happy Baby Charlie is going to be ok. 🙂
---
March 14 @ 3pm –
On Way Back from Surgery
Update: They just came in and told me Baby Charlie is on his way back up from surgery. Sounds like everything went according to plan. I'll update again later after he gets settled back in his room.
---
March 14 @ 1pm –
Charlie Just Went In for Surgery
Update: Baby Charlie is in surgery right now. They said it'll last about 2 hours. We walked him down to the Surgery Room on the Lower Level at 12:00 p.m. today. They stopped his feeding at 2:00 a.m. last night and switched him over to an IV (that's what's on his right arm in the photo above). I held him for about 90 minutes last night and another 90 minutes this morning. He was very alert and moving his head around from side to side. He started crying this morning, but I think it's because he was hungry.
Here's a brief summary about the surgery, which I found on this page:
The surgery takes approximately 2-3 hours. Your child will need to stay in hospital until their airway has opened up and they are breathing clearly and without assistance.
An incision is made through the skin under the jaw line, and then the jaw bone is carefully sectioned to enable a distraction device to be attached to either side of this separation in the bone. This happens on each side of the jaw.
The distraction device is not visible after the operation except for two small rods that will protrude out from the chin or from behind the jaw line. These are called the distractor arms, and this method of distraction is called internal mandibular distraction: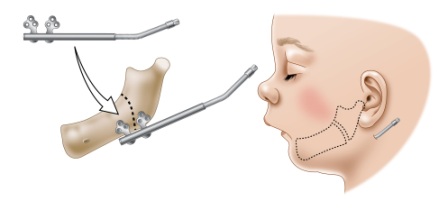 After his surgery, each distractor arm will be turned a full 360°. This separates the pieces of bone by 1 mm a day. The goal is to extend his jaw by 20 mm (2 cm) over the course of 20 days. Then new bones will grow in behind it. This will gradually make his jaw bone longer, which will move his tongue away from the back of his throat. This in turn will make his airway larger so he can breath easier.
I'll update you all again after his surgery.
Prayer Requests: Our prayer requests now turn to the surgery. Pray for the surgeon, Dr. Patel, and his team to do an excellent job. Pray for Charlie's breathing to be healthy during the procedure (he has a breathing tube in). And pray his pain would be minimal.
---
---
Thank you for your prayers!
Feel free to leave a comment, prayer or any words you're hearing from God in the comments below! We appreciate everyone's faith-filled prayers! With God all things are possible. We know it's God's will to heal and that He's given us the opportunity to partner with Him in prayer.
"Therefore I say to you, whatever things you ask when you pray, believe that you receive them, and you will have them." – Mark 11:24