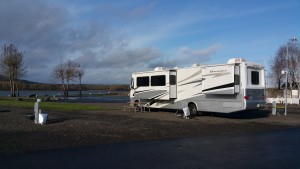 On 11/12/15 we bought our first motorhome:
a 2007 Four Winds Hurricane!
Traveling the country in an RV has been a dream of ours for some time. So we're pretty excited to finally have one!
Right now we're on our first trip. The pictures below are from the campsite we were at yesterday… a place called Columbia Riverfront RV Park in Woodland, WA. It was only about 20 mins from our house in Ridgefield but we figured we'd stay close since it's our first time out. Our plan is to take a couple local trips before we head out on the road for a longer trip!
The weather was kind of rainy but it cleared up a little yesterday… but we still had a blast! Lacie made some great sandwiches for dinner and then we ate twizzlers and watched Elf on all 3 TVs at the same time.
I had a little bit of work to do so I spent about 2 hours writing some marketing emails for one of my partners (I'm also experimenting with working on the road because I'd really like to see us try to see if we could "full-time" this RV thing soon!).